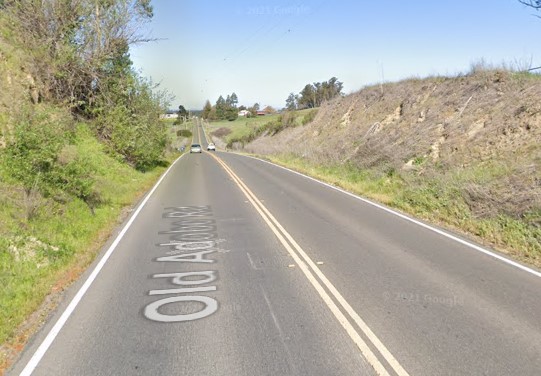 Three people were hospitalized, including a DUI driver, following a two-vehicle head-on collision in Petaluma, Sonoma County, early Friday morning, January 20, 2023.
According to a spokesperson for the California Highway Patrol, the crash occurred at around 1:00 a.m. along Adobe Road between Corona and Lynch roads.
Initial investigation revealed that 27-year-old Mauricio G. of Petaluma was heading north in a Ford Fusion when he entered the southbound lanes and struck a Subaru Forester traveling south head-on.
The 65-year-old male driver of the Subaru and his 63-year-old female passenger, both from Fairfield, were taken to the Providence Santa Rosa Memorial Hospital for sustaining moderate to major but not life-threatening injuries.
The Ford driver was also transported to the hospital for minor wounds. He was discovered to be driving under the influence of alcohol and will be detained in Sonoma County jail after his hospitalization on suspicion of felony DUI.
The Petaluma Police Department provided assistance with traffic control during the collision.

DUI Accident Statistics
National Highway Traffic Safety Administration-funded studies show that drunk driving causes over 10,000 annual deaths in the United States. Substance abuse is a factor in about 20% of fatal car accidents.
Every year in California, over 2,000 people are killed and another 30,000 are injured as a direct result of these kinds of events. It's already a problem that drunk drivers pose a threat to public safety. Anyone caught driving under the influence of alcohol or drugs faces serious consequences.
Drunk drivers pose a danger to other motorists because they are more prone to speed, swerve, and make poor decisions while behind the wheel. When in doubt, a person should always prioritize their own safety by removing themselves from risky situations.
Victims of car accidents caused by intoxicated drivers are entitled to obtain medical treatment for their injuries. You should talk to a lawyer before making any judgments or helping investigators. Those who have been hurt and believe a drunk driver may be responsible should contact an attorney immediately.
DUI Accident Lawyers for Victims in Sonoma County
Those wounded or lost a loved one in a car accident caused by an intoxicated driver have the same legal recourse under California law as victims of other traffic accidents.
Contact us to schedule a free consultation with one of our knowledgeable attorneys so that you may have your case reviewed and get advice on how to negotiate a reasonable settlement with the insurance company.
Our trusted drunk driving accident victim lawyers in Sonoma County have extensive experience and accolades advocating for accident victims. Our clients have been awarded compensation totaling $400 million.
Call (888) 488-1391 now, or click the "Do I Have a Case?" on our website to set up a free consultation with one of our attorneys.