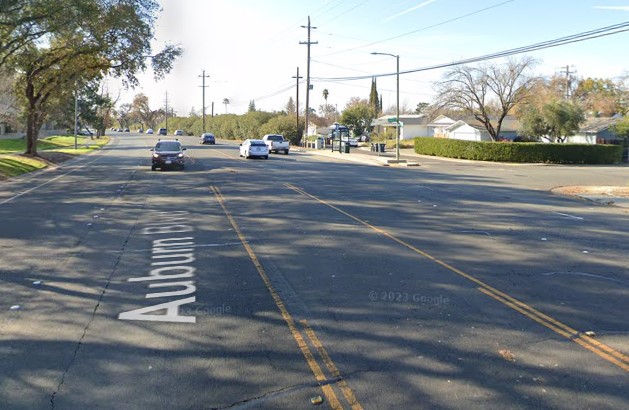 Two people were killed and another was injured following a collision between two cars and a pedestrian in Citrus Heights on Sunday evening, January 22, 2023.
According to the report of the Citrus Heights Police Department, the fatal crash occurred at around 7:45 p.m. on Auburn Boulevard near Cobalt way.
Responders arrived at the scene and located a pedestrian on the ground. The injured pedestrian was declared dead despite life-saving efforts by the medical crew.
The drivers of the two vehicles received assistance from the officers and they were later taken to nearby hospitals by firefighters. One of them later died and the other is receiving medical attention for suffering minor to moderate injuries.
Although the circumstances leading to the collision are still being looked into, police say speed does seem to play a role. It's unclear if drugs or alcohol played a role as well.
While the collision was examined, Auburn Boulevard's westbound and eastbound lanes between Cobalt Wy. and San Tomas Dr. were closed for a couple of hours.
The Sacramento County Coroner's Office is withholding the identities of the deceased pedestrian and driver until the next of kin is notified.

Fatal Pedestrian Accident Statistics
According to statistics provided by the Governors Highway Safety Association, the number of people who died in traffic accidents decreased by 14% between 2007 and 2016. The number of pedestrian fatalities rose by 27% throughout that time period, however, which is tragic.
These numbers portray a bleak picture for the future of pedestrian safety in the United States, as they show a striking increase in the likelihood of serious or fatal injuries following a vehicle collision.
Eight hundred and nine people lost their lives and fourteen thousand were injured in motor vehicle accidents in 2012. This would suggest that pedestrians are more likely to be injured or killed in California than in any other state due to the high number of pedestrians and vehicles on the road.
Death tolls from automobile incidents totaled close to 6,000 in 2016. By the end of the year, almost 88 individuals were losing their lives per minute. The annual number of injured Americans hospitalized is around 137,000.
Pedestrian Accident Lawyers in Sacramento County
California's law affords pedestrians the same rights as motorists, bicyclists, and passengers in the case of a traffic-related accident resulting in bodily injury or wrongful death.
Try to imagine the pain of losing a loved one due to the negligence of another. If something like this happens to you, you may be able to sue for damages in a personal injury or wrongful death case. Filing an insurance claim may be stressful and time-consuming in the aftermath of an accident that leaves you or a loved one injured.
Our trusted pedestrian accident lawyers in Sacramento County have extensive experience and accolades advocating for accident victims. Our clients have been awarded compensation totaling $400 million.
Call (888) 488-1391 now, or click the "Do I Have a Case?" on our website to set up a free consultation with one of our attorneys.