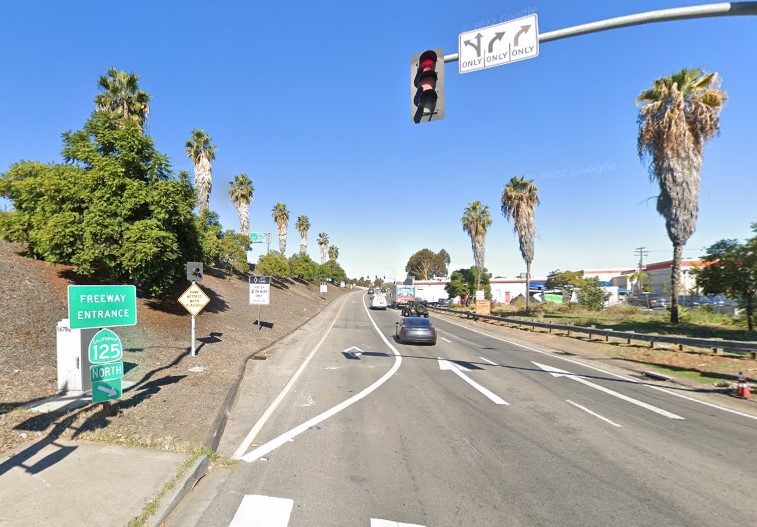 At least two people were injured following a hit-and-run two-vehicle head-on collision in Spring Valley, San Diego County, on Sunday morning, January 22, 2023.
According to the San Diego Police Department, the crash involving a stolen vehicle that went the wrong way occurred around 10:00 a.m. on State Route 125 north of the Jamacha Road exit.
Police were pursuing an SUV after it was reported stolen earlier on Sunday in the Mountain View area. Police gave up the chase after the driver turned onto SR-125, traveling north in the southbound lanes, where he ultimately collided head-on with a vehicle traveling south.
An occupant in each of the vehicles sustained minor injuries, and both were taken to the hospital. The number of people involved remains unclear at the moment.
The driver of the stolen car reportedly fled the scene and is still at large even after police officers with a police dog scoured the area. Authorities closed a number of freeway lanes during the response and search.

Hit-and-Run Accident Statistics
It is a major crime in the United States to cause an automobile accident and then abandon the scene without helping the victims. If law enforcement is successful in identifying and locating the driver, severe consequences, including imprisonment, await.
At least one driver in the United States causes an accident and then flees the scene every day. Since 2006, these kinds of calamities have claimed the lives of nearly 2,000 people. It was estimated that pedestrians would make up over 60% of the fatalities.
Accident perpetrators rarely render aid to victims, whether they are pedestrians or drivers. Some drivers have abandoned their cars on the shoulder or hurriedly left the area on foot after being pulled over for drunk driving or another traffic violation.
There were over half as many fatalities in hit-and-run accidents in California between 2009 and 2016 as there were in any other year. California is one of the deadliest states in the country, with an estimated 3,562 fatalities.
Hit-and-Run Accident Victim Lawyers in San Diego County
In the event of a traffic accident in California, the victim has the choice between pursuing criminal charges against the negligent motorist and submitting a civil claim for compensation with their auto insurer.
Filing a personal injury or wrongful death claim may be your best course of action if you or a loved one were critically injured or killed in a hit-and-run accident.
If you or a loved one has been harmed or killed due to someone else's negligence, please call one of our seasoned attorneys to discuss your case and your legal options.
Our trusted hit-and-run accident victim lawyers in San Diego County have extensive experience and accolades advocating for accident victims. Our clients have been awarded compensation totaling $400 million.
Call (888) 488-1391 now or click the "Do I Have a Case?" on our website to set up a free consultation with one of our attorneys.