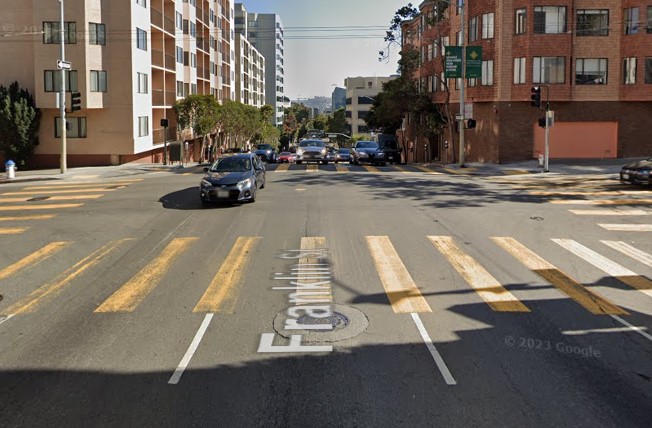 Authorities reported that a pedestrian was killed after being hit by a vehicle in San Francisco on Monday morning, January 23, 2023.
According to the San Francisco Police Department, the fatal crash occurred around 5:40 a.m. at Franklin and Eddy streets near Jefferson Square Park in Cathedral Hill.
Responders arrived at the scene and located the pedestrian suffering from serious injuries. The person was later declared dead on the spot despite life-saving procedures performed by the medical crew.
The driver reportedly stayed at the scene and cooperated with the investigators. The circumstances leading to the crash remain under investigation.
Initial inquiry revealed that alcohol or drug did not play a role in the deadly collision that caused the city's third pedestrian death of the year.

Fatal Pedestrian Accident Statistics
According to statistics published by the Governors Highway Safety Association, the number of lives lost in traffic accidents decreased by 14% between 2007 and 2016. It's unfortunate that there was a 27% rise in pedestrian fatalities within that time frame.
These numbers present a bleak picture for the future of pedestrians in the United States, as the likelihood of serious or fatal injuries following a vehicle collision has increased dramatically.
In 2012, automotive accidents caused 809 deaths and 14,000 injuries. This would suggest that pedestrians are more likely to be injured or killed in California than in any other state in the country as a result of vehicle collisions.
Road accidents claimed the lives of over 6,000 Americans in 2016. By the end of the year, an average of 88 individuals were losing their lives every minute. An estimated 137,000 persons in the United States are hospitalized every year because of injuries.
Pedestrian Accident Lawyers in San Francisco
California law affords pedestrians the same rights as motorists, cyclists, and passengers in the case of a serious or fatal traffic collision.
Try to imagine the pain of being injured or losing a loved one due to the negligence of another. If something like this happens to you, you may be able to sue for damages in a personal injury or wrongful death case. If you or a loved one have been hurt in an accident, filing an insurance claim can be stressful and time-consuming.
Our trusted pedestrian accident lawyers in San Francisco have extensive experience and accolades advocating for accident victims. Our clients have been awarded compensation totaling $400 million.
Call (888) 488-1391 now or click the "Do I Have a Case?" on our website to set up a free consultation with one of our attorneys.