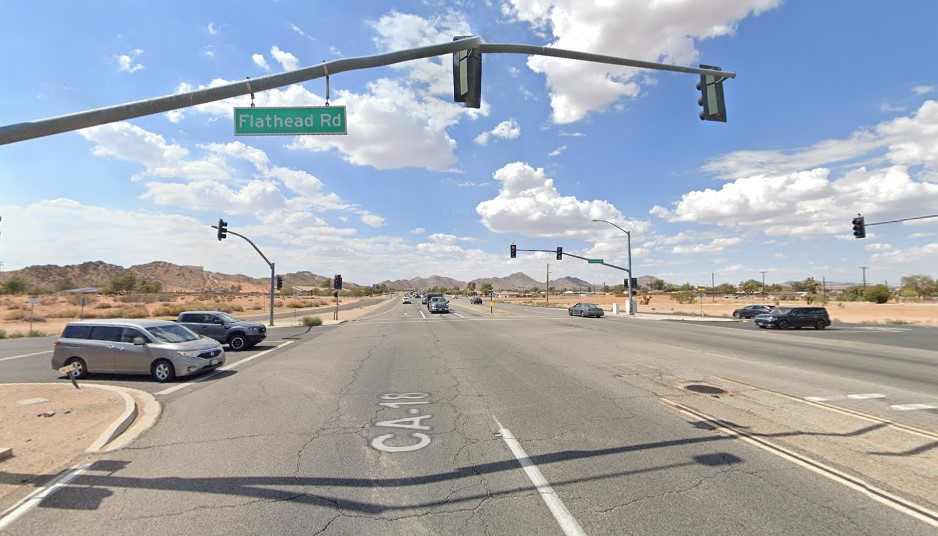 A school police officer was injured following a two-vehicle collision in Apple Valley, San Bernardino County, on Tuesday morning, January 24, 2023.
According to the San Bernardino County Sheriff's Department, the crash occurred at around 11:01 a.m. at the Flathead Road and Highway 18 intersection.
A Ford Explorer driven by an Apple Valley School Police officer with significant front-end damage and a 2019 Honda CRV with back-end damage were involved in the crash.
The officer was taken to a nearby hospital after sustaining injuries while there was no information on the other driver. Fortunately, the Sheriff's officials reported that no major injuries happened.
Police and emergency personnel closed the eastbound lanes of Highway 18 while they cleaned up and conducted an investigation. Traffic was diverted for roughly an hour before it was reopened.
The Apple Valley Police Department is looking into the circumstances that led to the crash.

Two-Vehicle Accident Statistics
According to official statistics, an average of one person is killed and ten more are injured in car accidents in the United States every minute. Unnecessary deaths affect over two million young adults and children under the age of twenty-four every year, and another ten million are harmed.
By the year 2050, it is projected that roughly 10,000 California residents will have lost their lives in traffic-related incidents. The idea that these figures would only rise further in the future is disheartening.
Since 2013, the average annual growth rate of deaths caused by automobiles has been 23.5 percent. The roads in 2017 resulted in 3,898 deaths and 279,223 injuries. In that year, nine out of every one hundred thousand riders on public transit died.
Almost every driver in California has a horrible story to share about a terrifying incident that occurred while they were at the wheel. By practicing cautious driving tactics like maintaining a safe following distance and inspecting your vehicle regularly, you can lessen the likelihood of being involved in an accident.
Car Accident Lawyers in San Bernardino County
Anyone wounded in a car crash in California has the legal right to sue the responsible party for financial compensation. Contact our highly regarded legal staff if you require assistance filing an insurance claim.
Imagine that you or a loved one has been wounded in a car accident and that you want to make a claim for personal injury or wrongful death. If that's the case, don't delay calling our reputable law firm to schedule your initial consultation with one of our well-known attorneys at no cost to you.
Our trusted car accident lawyers in San Bernardino County have the recognition, vast experience, and expertise to advocate properly for accident victims. Our clients have been awarded compensation totaling $400 million as of yet.
Contact (888) 488-1391 or click the "Do I Have a Case?" on our website to schedule a free consultation with one of our lawyers.