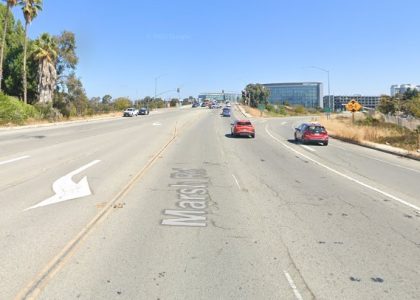 A passenger was seriously injured following a hit-and-run collision between two vehicles in Menlo Park on Thursday afternoon, January 26, 2023.
According to the Menlo Park Police Department, the hit-and-run collision occurred shortly before 12:34 p.m. on Marsh Road near U.S. Route 101.
The suspect vehicle was determined to be a newer, gray Honda Accord sedan, had tinted windows, and was damaged to its front right side. The car was last seen heading west on Marsh Road.
At least one person, the passenger of the hit vehicle, was transported to a nearby hospital after sustaining serious wounds. No details on the victim's current condition, as well as the condition of the driver, were released.
The authorities are urging anyone with information to assist them in their search for the hit-and-run driver while the investigation continues.

Hit & Run Accident Statistics
In the United States, if you cause an automobile accident and do not stop to help the injured or seek assistance, you will certainly face serious criminal charges. If caught, a hit-and-run driver may be subject to severe penalties, including jail.
Every day in the United States, at least one motorist causes an accident and then escapes the scene. More than 1,900 people have lost their lives because of these occurrences alone since 2006. Over 60% of predicted casualties were predicted to be pedestrians.
More than half of all fatal hit-and-run accidents in the Golden State of California were reduced between 2009 and 2016. Still, California is one of the deadliest states in the US, with an annual death toll of 3,562.
What to Do After a Hit & Run Accident
It's crucial to get help right away if you or someone you know has been involved in a car accident. In responding to questions, provide only hard evidence; avoid making assumptions.
Still shaken from the tragedy, accident victims may feel obligated to apologize for behaviors they did not instigate. Even while it might not feel like an admission of guilt to you, the insurance company will use this as evidence to fight your claim.
Make contact with the authorities and request a copy of the report. We can also make the request on your behalf if you fill out our online form. The data provided therein considerably aids our capacity to get started on your claim. Feel free to contact us if you want a free assessment of the strength of your case.
Hit & Run Accident Victim Lawyers in San Mateo County
Victims of hit-and-run accidents in the Golden State can file a criminal complaint against the fleeing driver and a civil lawsuit against the driver's vehicle insurer for financial damages.
If you or a loved one has been gravely injured or killed as a result of another person's negligence, please contact one of our highly regarded attorneys. If someone else's negligence caused your injuries or death, you could sue for compensation.
Our trusted San Mateo County hit-and-run accident victim lawyers at Arash Law, led by Arash Khorsandi Esq., have extensive experience and accolades advocating for accident victims. Our clients have been awarded compensation totaling $400 million.
Call (888) 488-1391 now or click the "Do I Have a Case?" on our website to set up a free consultation with one of our attorneys.