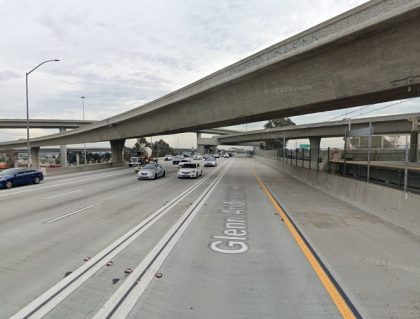 Authorities reported that a pedestrian was killed after being struck by a vehicle in south Los Angeles on Monday evening, January 30, 2023.
According to the California Highway Patrol, the crash occurred at 11:41 p.m. close to the Harbor (110) Freeway and the westbound Glenn Anderson (105) Freeway interchange near the Central Avenue exit.
Officers responded to the area and discovered the pedestrian lying in the roadway's slow lane after being struck by a red Honda Civic. The victim was declared dead on the spot after sustaining fatal injuries.
Whether or not the Honda driver stayed at the scene was not immediately known. The authorities released no further details on their identifications.
While the CHP investigated the circumstances leading to the fatal crash, the third, fourth, and fifth lanes of 105 Freeway were shut down temporarily.

Fatal Pedestrian Accident Statistics
The number of people killed in traffic-related accidents declined by 14% between 2007 and 2016, per data compiled by the Governors Highway Safety Association. However, during this period, the number of pedestrian deaths rose by 27%. This exemplifies how pedestrians on U.S. roads are increasingly becoming vulnerable to significant harm or death in the future years.
An estimated 809 people were killed and 14,000 were injured in motor vehicle accidents in the United States in 2012. The findings reveal that California has the highest risk in the United States for pedestrians to be killed or badly injured in a traffic event.
In 2016, over 6,000 people were killed in car crashes across the United States. By year's conclusion, 88 lives were being lost every minute. Almost 130,000 people in the United States are taken to hospitals every year due to car accidents.
What to Do After a Pedestrian Accident
If you or someone you know has been in a pedestrian accident, immediately dial 911 for assistance. Answer questions with just verified information; do not speculate. Victims of accidents, still reeling from the catastrophe, may feel compelled to apologize for actions they did not initiate. The insurance company will use this as evidence to dispute your claim, even if it may not feel like an admission of guilt to you.
Get in touch with the police and ask for a copy of the incident report. You may also fill out our online form and we'll request it for you. Our ability to begin working on your claim is greatly aided by the information contained therein. If you'd like a free evaluation of your case's merits, feel free to get in touch with us.
Pedestrian Accident Lawyers in Los Angeles
In the event of a major or fatal traffic accident in the state of California, a pedestrian has the same legal rights as a driver, a cyclist, or a passenger in a motor vehicle. A personal injury or wrongful death lawsuit can be filed on behalf of anyone wounded or who loses a loved one in an automobile accident that was someone else's fault.
Our trusted Los Angeles pedestrian accident lawyers at Arash Law, led by Arash Khorsandi, Esq., have extensive experience and accolades advocating for accident victims. Our clients have been awarded compensation totaling $400 million.
Call (888) 488-1391 now or click the "Do I Have a Case?" on our website to set up a free consultation with one of our attorneys.