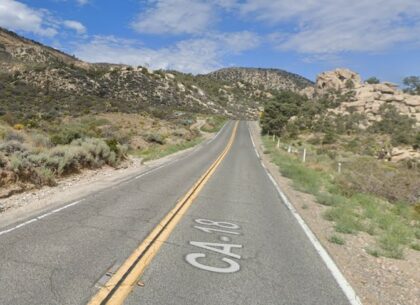 A 32-year-old man named James H., sustained a minor injury after a multi-vehicle crash in San Bernardino County on Tuesday morning, January 31, 2023.
Reports indicated the collision transpired around 9:31 a.m. along Highway 18 near Holcomb Valley Road.
According to the victim, the first incident happened while he was driving down the hill to a doctor's appointment. The vehicle began to slide as he was returning home.
A Big Bear resident said this week's powerful storm, which brought brutal winter weather to Southern California, reminded him of a time when similar dangerous conditions nearly killed him.
He stated that a car was coming from the opposite direction, so he slid and messed up the front tire instead of going head-on.
Another vehicle collided with the driver while he was waiting for a tow truck. He claimed he didn't see the vehicle approaching.
He added that he flew up and landed under the car. He just jumped back up, and his hands were severely slashed.
When the third accident occurred, the driver of the vehicle that hit him was attempting to assist.
The other driver was trying to wrap the victim's hand in a shirt. Before the paramedics arrived, another vehicle hit and pinned the victim, trapping him between two cars.
When paramedics arrived, another vehicle hit the ambulance just as he was about to be taken to the hospital.
Thankfully, no other injuries were reported.
The 32-year-old driver was only hospitalized for two hours before being released.
Authorities have investigated the incidents.

Multi-Vehicle Crash Statistics
According to the NHTSA, more than 5.2 million car accidents were reported by police in 2020. In such crashes, 30% (1.6 million) were injured, while less than 1% (35,766) were killed.
Between 2019 and 2020, fatal crashes increased by 6.8 percent, with the fatality rate rising to 1.34 deaths per 100 million cars traveled in 2020. In the same duration, 79 people were injured per 100 million vehicles in 2020, a 6.0% decrease.
The most common victims of traffic accidents were drivers (67%), passengers (24%), motorcyclists (4%), pedestrians (3%), and pedal cyclists (2%).
Multi-vehicle crashes occur when three or more vehicles collide. A car accident can lead to six cars becoming entangled in the wreckage.
Multi-vehicle accidents, unlike traffic accidents, usually result in fatalities, serious injuries, and property damage. Those nearby may be injured if you lose control or have poor situational awareness. In most cases, the likelihood of such collisions is more significant.
How Do I Obtain a Police Report Following an Accident
Our team can assist you in obtaining a police report if you have been involved in an accident.
All we need is the details of what happened and where it happened. After that, we will contact the relevant parties and get you all the necessary information.
Our team handles this process for every client, so you need not worry about your insurance company paying for your injuries —we'll ensure everything is covered!
Car Accident Attorneys in San Bernardino County
A car accident causes physical and emotional pain to everyone involved. Loss of productivity and the cost of care must be considered.
A family member injured in a car accident may be eligible for compensation. In state civil courts, attorneys representing victims contribute significantly to the awarded settlement amount.
If you or a loved one needs legal representation after a car accident, contact our firm for a free case evaluation and consultation. Our main goal is to meet our client's needs and guarantee they are fairly compensated for their injuries.
With their extensive experience, our San Bernardino County car accident attorneys at Arash Law, led by Arash Khorsandi, Esq., can assist you with these court cases. We have obtained over $400 million in compensation for our clients.
For a no-obligation consultation with one of our attorneys, call (888) 488-1391 or visit our website and click the "Do I Have A Case?" link.