Two unidentified people were killed following a deadly head-on crash in East Oakland on Tuesday night, February 1, 2022.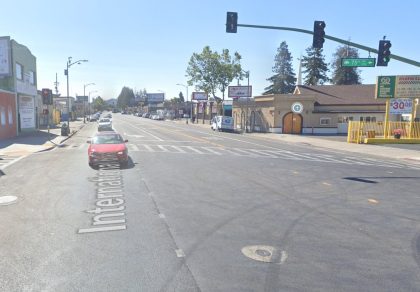 The fatal collision transpired at approximately 9:36 p.m. in the 7800 block of International Boulevard in East Oakland.
An eastbound Ford was speeding on a designated bus lane on International Boulevard when it crossed over the westbound lanes for unclear reasons and collided head-on with an oncoming westbound Nissan.
The 26-year-old Ford driver and his 17-year-old male passenger were pronounced dead at the scene.
The 16-year-old driver briefly left the scene, but police later found him. He sustained injuries on his wrist and was taken to a hospital for treatment.
It's unclear whether drugs or alcohol played a role in the crash. Local authorities are further investigating the case.
Anyone that can provide additional helpful information about the accident is urged to contact the Oakland police traffic investigation unit at 510-777-8570.


Fatal Car Accident Statistics
Car accidents happen all the time on American highways. These mishaps might alter your life and make you unhappy. Because vehicles are so vital in our daily lives, it's easy to forget how deadly they can be. Severe, even fatal, car accidents can occur.
According to the U.S. Department of Transportation's Fatality Analysis Reporting System (FARS), 33,654 fatal car accidents killed 36,560 people in 2018.
In this case, a speeding driver triggered the fatal collision. Excessive speeding reduces the amount of time a driver has to react in a dangerous situation to avoid a crash, increases vehicle stopping distance, and reduces the ability of road safety structures (such as guardrails, impact attenuators, crash cushions, median dividers, and concrete barriers) to protect vehicle occupants in a crash.
Speeding is a major cause of road deaths and injuries. According to the National Safety Council, in 2019, speeding was a factor in 26 percent of all road deaths, killing 9,478, or more than 25 people each day. The overall number of fatal motor vehicle accidents caused by speeding was 8,544.
Fatal Car Accident Lawyers for Victims in Alameda County
Speed is frequently a major contributing factor in deadly car accidents. In any car collision, speed increases the severity of the injuries sustained. Even if you survive your injuries, they will be more serious if the incident was caused by high speed.
Victims of fatal car accidents might be of any age. They frequently observe the law and wear their seat belts for safety's sake. Hundreds of pedestrians are injured and killed by cars throughout California every year. Whatever caused your loved one's fatal automobile accident, a fatal car accident lawyer can provide you with essential advice on what to do next.
After being injured in a car accident caused by speeding, the skilled Alameda County car accident lawyers at Arash Law can help you preserve your rights.
Arash Law's expert auto accident attorneys have decades of experience. We've collected more than $200 million for clients all around the state. San Francisco, Riverside, San Jose, San Diego, Sacramento, Sherman Oaks, and the rest of California are among our service areas. Call (888) 488-1391 or send us an email to schedule your free consultation.