Three people were injured following a major two-vehicle crash at a Corning intersection on Thursday morning, February 3, 2022.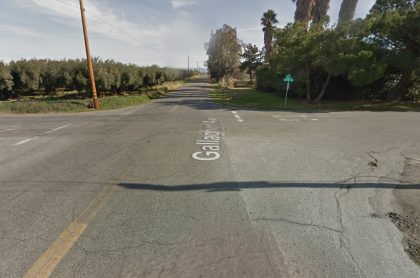 The accident happened at approximately 8:00 a.m. at the intersection of Gallagher Avenue and Edith Avenue, near Interstate 5 Freeway.
One vehicle was reportedly traveling at 35 to 40 mph on the eastbound lanes of Gallagher Avenue, while another vehicle was traveling at 25 mph on westbound Gallagher.
The first vehicle then turned left onto Edith Avenue and crashed into the left front of the second vehicle.
Three people were injured following the mishap, including a 16-year-old girl and a 14-year-old girl.
The 16-year-old girl and the driver of the first vehicle were transported to St. Elizabeth Hospital for major injuries, while the 14-year-old girl was taken to UC Davis Hospital.
The California Highway Patrol is currently investigating the case.


Two-Vehicle Collision Statistics
Even though the overall number of deaths and deaths as a percentage of the US population had decreased over the previous two decades, the trend flipped in 2015 and continued to rise in 2016.
According to the National Highway Traffic Safety Administration (NHTSA), 37,461 people died in 34,436 car accidents in 2016, an average of 102 deaths per day.
California's vast and congested highways are frequently the site of deadly car accidents. Numerous individuals are murdered in high-speed vehicle and truck accidents in California every year.
According to the California Highway Patrol, roughly 277,160 individuals were wounded on California highways in 2017. That figure is only rising. Every day, it happens to the people of California.
Most accidents result from carelessness, irresponsibility, or breaching the law. Accidents can be avoided by paying attention to the road, being competent behind the wheel, and maintaining your vehicle properly.
Collision Lawyers for Victims in Tehama County
Nobody gets into their car expecting to be involved in an accident. Unfortunately, car accidents occur regularly throughout the state of California. People engaged in car accidents frequently receive serious injuries that will affect them for the rest of their life.
When other people's negligence causes a motor vehicle accident, victims are typically able to obtain financial compensation for their losses through a California personal injury claim.
Following a car accident, injured parties need to seek assistance from an experienced attorney to guide them when they file their personal injury claim.
Arash Law's Sonoma County collision attorneys will fight for you to get the compensation you deserve. Over the last 30 years, Arash Law has handled every type of car accident imaginable. Call our vehicle accident attorneys at (888) 488-1391 and ask for a free case evaluation.