Two people were injured, including a Shafter police officer following a car accident in Fanucci Way on Tuesday morning, February 8, 2022.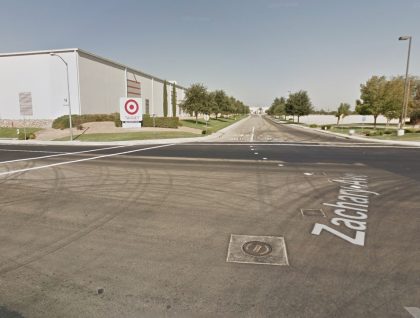 The accident occurred in the area of Fanucci Way and Zachery Avenue near the Target Distribution Center at around 6:15 a.m.
The officer was initially trying to stop a speeding driver when his vehicle was struck by a civilian car for unclear reasons.
The driver and the police officer were injured in the mishap. Their identities have not been disclosed. Both drivers were taken to Kern Medical for treatment.
The police vehicle's lights were turned on, but it's unclear whether the sirens were activated at the time of the incident.
Local authorities are further investigating the cause of the crash.


Two-Vehicle Crash Statistics
Traffic collisions are the leading cause of bodily injury in the United States. Every year, almost 2 million individuals are injured in car accidents. In California alone, over 200,000 people are wounded each year.
California is well-known for having some of the country's busiest and most congested highways. With so many automobiles on the road, there will undoubtedly be traffic congestion, bottlenecks, and (most importantly) car accidents, both death, and serious injury incidents.
The driver who caused the collision is liable for the losses suffered by the other parties, including those listed above.
In California, the fault for an accident is determined by which the driver was negligent in triggering the crash. In some circumstances, both drivers may be at blame. Even if this occurs, one motorist may have a claim against the other.
Auto Accident Attorneys for Victims in Kern County
While it is technically possible to represent yourself in a vehicle accident case, it is not recommended. Self-representation puts you at risk of making mistakes and losing your right to compensation.
Negotiating with insurance claims adjusters is challenging, especially when the stakes are high. Protect your rights and your future by hiring a vehicle accident lawyer to settle your case or, if necessary, take it to trial. Arash Law's Kern County automobile accident attorneys work on a contingency-fee-basis, which means you only pay attorneys' fees if we obtain a monetary award for you.
If you believe you have grounds to submit a claim, contact a local car accident lawyer in California who can assist you in navigating car accident legislation. Arash Law has decades of expertise in California and has obtained multi-million dollar settlements and verdicts for our clients.
Our car accident specialists can examine your accident, identify probable defendants, and submit your claim with the civil court system as soon as feasible. Don't put it off any longer — you're only a phone call away from knowing about your legal alternatives. Call (888) 488-1391 for a Free Consultation with a California personal injury attorney.