A 14-year-old girl was killed after getting struck by a hit-and-run driver in Camino on Wednesday afternoon, February 9, 2022.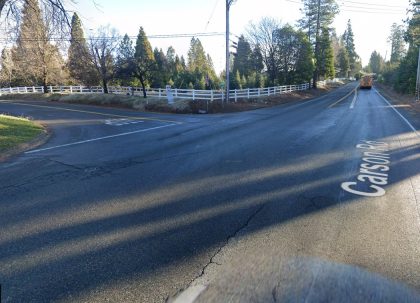 The accident transpired at approximately 4:00 p.m. on Carson Road east of Barkley Road near the town of Camino.
The young girl was walking eastbound on the north shoulder of Carson Road when a westbound Honda CR-V suddenly struck her.
The driver did not stop to render aid and drove away from the scene. The girl was critically injured in the mishap.
Unfortunately, despite the life-saving measures performed by emergency personnel, the teenage girl was pronounced dead at the scene.
The California Highway Patrol is further investigating the case. Anyone that can give more information about the crash is asked to call the CHP at 916-861-1300.


Fatal Hit-and-Run Accident Statistics
The hit-and-run motorist is responsible for leaving the victim instead of helping them and fleeing the scene. Once the suspect is located, they will certainly be charged with a crime.
Hit-and-run drivers blame about one out of every five pedestrian incidents. Pedestrians make up 60% of those killed in hit-and-run accidents.
When a pedestrian is hit by someone else's careless actions, they have little recourse but to be fully vulnerable.
From 2007 to 2016, the number of pedestrian deaths in the United States rose by 27%, while other traffic-related deaths declined by 14%.
Intoxication, driving without a license, and the fear of being arrested are common reasons why some drivers prefer leaving the scene instead of waiting for authorities.
Hit-and-Run Accident lawyers for Victims in El Dorado County
If a driver is involved in a traffic accident in California, they must pull off the road (as safely as possible) at the site of the accident. Failure to stop at the scene and wait for authorities is a serious crime or felony.
If you or a loved one has been injured or killed because of a hit-and-run motorist, contact a competent California hit-and-run accident attorney right away.
Arash Law's skilled El Dorado County hit-and-run accident attorneys have considerable experience defending California pedestrians who have been wounded or killed in pedestrian accidents. We have a thorough understanding of the law that applies in such cases.
Our attorneys take the time to get to know our clients and their issues in-depth, allowing us to get the best settlements or jury judgments for our clients. Call our office at (888) 488-1391 today to speak with a hit-and-run lawyer about your accident.