Eight people were hurt after a major traffic collision involving multiple vehicles in Paso Robles on Saturday night, February 12, 2022.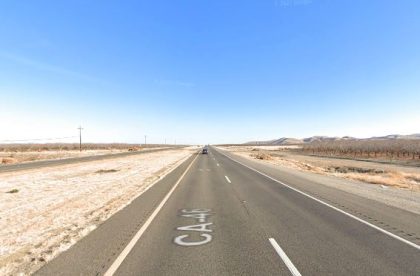 The accident occurred in the area of Highway 46 and Whiteley Gardens in Paso Robles at approximately 7:51 p.m.
A southbound 2000 Honda CR-V entered Highway 46 from River Grove Drive when the driver didn't notice an oncoming westbound Toyota.
The Honda then ended up crashing into the driver's side of the Toyota.
Meanwhile, a westbound 2007 Chevrolet Uplander was driving on Highway 46 at 70 mph; as the driver approached the crash site, the Chevrolet driver failed to avoid the Honda and ended up crashing into it.
The unrestrained passengers in the Honda CR-V were ejected onto the roadway due to the severity of the impact.
Eight people were injured in the crash. Five people were seriously injured and were transported to Sierra Vista by ambulance. Meanwhile, one person was airlifted to Sierra Vista Regional Medical Center. Two people sustained minor injuries and were taken to Twin Cities Community Hospital.
An active investigation of the mishap is currently underway.

Multi-Vehicle Crash Statistics
A traffic accident is considered a multi-vehicle collision when more than three vehicles are involved in the crash. If six or more vehicles are involved, the crash is often referred to as a "pileup" collision.
If there is a lot of fog, rain, or snow on the road, it is more likely that there will be a multi-vehicle accident. As a result, drivers need to be extra careful and watchful. Many people don't know how dangerous the roads can be when they drive.
According to a recent NHTSA study, more than 13,000 people died in multi-vehicle crashes involving passenger cars, which account for more than 40% of all motor vehicle accidents each year.
Many people who get into multi-car accidents don't have much time to avoid hitting cars ahead of them. Most drivers swerve out of their lane, hit the brakes, and crash because they're scared. Vehicles that try to avoid a collision by swerving into oncoming traffic often cause a bigger chain reaction and more cars to pile up. A multi-car accident is one of the most dangerous types of accidents.
Collision Lawyers for Victims in San Luis Obispo County
A multi-vehicle collision can result in serious injury and trauma for the people involved. If you have been injured in a multi-vehicle collision, seeking legal assistance from an experienced San Luis Obispo County collision lawyer is highly encouraged.
Every single one of those injuries could lead to a personal injury claim and a claim for damage to your home. A California car accident can be life-changing. It can cause trauma and loss in your life, at work, and in your peace of mind. You need a California car accident lawyer to help you through the process of making claims so you can get the money you deserve.
Insurance companies know how to pay as little as possible when someone is hurt. Insurers spend a lot of money instructing their claims adjusters how to deny the most claims they can and then get away with low settlement offers on the claims they can't deny.
The skilled car accident lawyers at Arash Law work with people from all over California. We are close to you, and our lawyers have dealt with all kinds of car accident cases. To get a free consultation about your case, call our personal injury team today at (888) 488-1391 or email us.