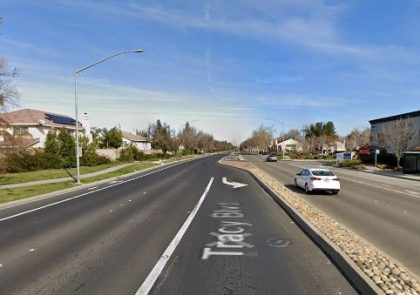 A 70-year-old man was killed after being struck by a vehicle in Tracy on Sunday, February 13, 2022.
The collision occurred around 9:35 a.m. in the 2600 block of South Tracy Boulevard.
According to Tracy Police Department spokesperson Sgt. Mario Ysit, the man was walking in the middle of the road when he was hit.
Arriving officers attempted to save his life, but he died as a result of his injuries.
The driver is cooperating with authorities and Sgt. Ysit claims the crash was not caused by drugs or alcohol.
There are no other details available.
The crash remains under investigation.

Fatal Pedestrian Accident Statistics
It is more common for pedestrians to die in a collision than it is for car passengers to be killed. People on foot are at a greater risk of injury or death in an accident.
In recent years, the number of pedestrian deaths in the United States has risen significantly. Between 2007 and 2016, the number of people killed while walking increased by 27%, while the number of people killed in motor vehicle accidents decreased by 14%.
Some of the most beautiful cities in the United States can be found in California. Unfortunately, the roads in California are less welcoming to pedestrians than those in other states. According to Californians, walking on the state's roads should be approached with extreme caution.
Pedestrians face some of the most perilous conditions on the state's roadways. It is estimated that the death rate in California is 25% higher than the national average. Pedestrian deaths and injuries totaled 893 and 14,000 in 2018 in California alone.
San Joaquin County Pedestrian Accident Lawyer for Victims of Fatal Pedestrian Crash
Victim's family members can be devastated by the loss of a loved one in a pedestrian accident. As their trauma continues to reverberate, they may still be overcome with grief and sorrow.
When filing a wrongful death claim in California, they must also adhere to the state's strict deadlines. Within two years of the accident, the victim's family must file a wrongful death claim.
Our San Joaquin County pedestrian accident lawyers at Arash Law have extensive experience and expertise in representing pedestrians who have been injured or killed in pedestrian accidents.
We take the time and effort necessary to get to know our clients and their issues intimately for this and many other reasons. Call (888) 488-1391 now for a free consultation with our lawyers about your case.