One unidentified person was killed after a deadly pedestrian crash in Oakland on Monday night, February 14, 2022.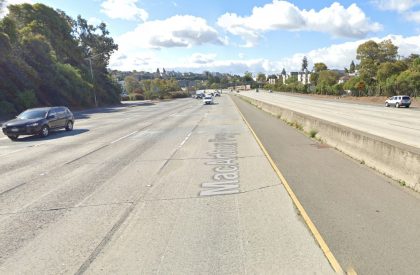 According to the initial reports from the California Highway Patrol, the accident happened on eastbound Interstate 580, near Park Boulevard.
An unspecified vehicle struck the victim for unclear reasons. Unfortunately, the unidentified pedestrian was killed in the mishap.
Information about the accident is limited at the moment. The identities of the involved parties have not been revealed.
An active investigation of the accident is currently underway.


Fatal Pedestrian Accident Statistics
Pedestrians are more likely to die in a crash than passengers in enclosed cars. This is because pedestrians are vulnerable in an accident, unlike passengers in private cars, who are covered by airbags and seat belts, which can lessen the chance of fatal injuries.
Pedestrian deaths in the United States have skyrocketed in recent years. Between 2007 and 2016, pedestrian deaths increased by 27%, while traffic-related deaths decreased by 14%.
Because of the state's bad roads, California is an especially dangerous state for pedestrians. Californians are aware that pedestrians should use extra caution when crossing busy streets.
When it comes to pedestrian safety, California has some of the worst in the country. According to the California Authority, the death rate in California is predicted to be 25% higher than the national average. In 2018, 893 pedestrian deaths and 14,000 pedestrian injuries were on California's roadways.
Fatal Pedestrian Accident Lawyer for Victims in Alameda County
Drivers are obligated by law to slow down whether the pedestrian is in a marked crosswalk or not. They must also give pedestrians the right of way at regulated junctions. In a pedestrian collision, authorities will investigate whether the motorist violated any traffic regulations.
A lawyer can assist the deceased's surviving family members in filing a wrongful death claim to seek compensation for the harm caused by the accident. Compensation for lost pay, burial costs, discomfort, and mental anguish are examples of damages that may be given.
Arash Law will vigorously defend our clients' rights and interests to bring the negligent party accountable. Arash Law's Alameda County fatal pedestrian accident attorneys have decades of experience in settlement negotiations and litigation, so they understand exactly what it takes to win a case.
If you're looking for a reputable law firm with a proven track record, contact one of our Arash Law attorneys right away. Call us at (888) 488-1391 for a Free Consultation, or come to one of our offices in Los Angeles, Sacramento, San Francisco, Riverside, Orange County, or San Diego.