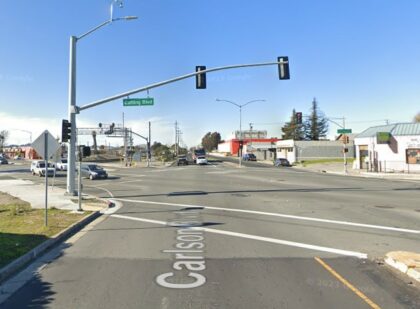 Police are searching for the hit-and-run driver who fatally struck a pedestrian in Richmond on Saturday, February 18, 2023.
The fatal collision reportedly occurred near Carlson Avenue and Cutting Boulevard.
Officers responded to the area after receiving reports of a pedestrian being struck and found the victim suffering from fatal injuries.
The victim was pronounced dead at the scene.
Officers determined that the vehicle involved was traveling at high speeds on Cutting Boulevard when it struck the victim crossing the street.
The victim's identity is withheld until the next of kin is notified.
The circumstances of the crash are still being investigated, and no arrests have been made.

Fatal Hit-And-Run Collision Statistics
The AAA Foundation for Traffic Safety reports that 680,000 people are injured or killed annually in the United States in hit-and-run accidents. Several recent studies have reported an increase in fatalities resulting from hit-and-run accidents. In 2020, pedestrian fatalities were caused by 24% of these accidents.
A hit-and-run collision occurs between two vehicles, and the driver flees without helping the injured.
A hit-and-run accident has serious consequences because victims often go untreated, and accidents have a high economic and social impact.
Accidents involving pedestrians are almost always caused by distracted driving. In addition to conversing with passengers, drivers may also talk on the phone or change the radio station while driving. When people multitask, they are more likely to injure others.
The best way to avoid such accidents is to wear bright clothing. Crossing the street only when you can see the oncoming car is also best.
What Do I Need To Do After an Accident
The first thing you should do after being involved in a vehicle collision is to stop. A hit-and-run is punishable severely under the law. If anyone is killed or injured in a crash and law enforcement is not yet present, the police or CHP should be notified immediately.
In cases where the driver of a vehicle involved in a collision is physically incapable of reporting the accident, any occupant in the car at the time must do so.
Move your vehicle from the roadway if no one has been injured or killed. Authorities may impound vehicles not moved or removed from streets or highways.
Hit-And-Run Accident Lawyers for Victims in Richmond
Accident victims who have been traumatized may need much time and effort to heal from their injuries. Medical costs can be high, and victims may lose their jobs.
Legal advice should be sought by anyone injured in such an accident as soon as possible. Hit-and-run drivers may be held accountable for their actions even if they are never identified.
With the assistance of our legal team, you can be confident that your case will be handled efficiently and professionally. Reckless drivers must be held accountable at all costs.
Our Richmond hit-and-run accident lawyers at Arash Law, headed by Arash Khorsandi, Esq., have a proven track record of successfully representing victims of hit-and-run accidents. We aim to obtain a favorable settlement for you without requiring any out-of-pocket expenses.
To schedule an initial consultation, please call (888) 488-1391 or visit our website and click the "Do I Have a Case?" link.