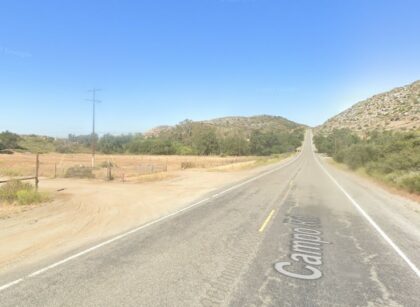 A 37-year-old motorcyclist was killed following a collision with a van near Potrero in San Diego County on Sunday evening, February 19, 2023.
According to the California Highway Patrol, the deadly crash occurred at about 8:02 p.m. at the intersection of State Route 94 and Bell Valley Truck Trail.
The rider, identified as Ellis W. from Jacumba Hot Springs, was driving his Kawasaki motorcycle west on the highway when a van reportedly drove ahead in the same direction.
The rider then struck the van's driver side after the vehicle attempted to make a U-turn in the intersection by crossing into the eastbound lanes.
The rider was thrown off his motorcycle and trapped under the van. The driver stopped, dialed 9-1-1, and waited for the fire crews and law enforcement to arrive.
When they arrived, the paramedics declared the rider dead without doing any medical procedures due to obvious injuries and trauma.
The investigation into the collision by the authorities continued.

Fatal Motorcycle Accident Statistics
14% of all traffic fatalities, 18% of occupant fatalities, and 4% of occupant injuries were caused by motorcycle accidents in 2020, according to data compiled by the National Safety Council. These riders accounted for less than 0.6% of all vehicle miles and 3% of all drivers. Many lives could have been saved if helmets had been worn.
Deaths increased by 11% between 2019 and 2020, with an additional 23% added to the death toll for every 100,000,000 kilometers traveled. Both the mortality rate and the total number of deaths rose by 20% and 10%, respectively, in just a decade. Over the past few years, the death toll per 100 million kilometers traveled has risen to 5,579.
California was home to more than 785 thousand motorcycles in the year 2020. About 500 motorcyclists are killed there each year, making it one of the two deadliest states in the United States. The lack of a helmet is directly responsible for six percent of these fatalities.
What to Do After a Motorcycle Accident
The police must be notified immediately following a motorcycle accident. It's important to avoid making any assumptions and stick to the facts when communicating with law enforcement or an insurance company. Apologies may be offered by victims who were not to blame for the incident. Such conduct may be used against a claim by the insurer.
You can get a copy of the report by contacting the proper authorities. Our website also features an online form that you can fill out. As soon as we get the report, we'll start working on your request. No matter the size of your insurance claim, we will review it for free.
Motorcycle Accident Lawyers in San Diego County
Consult an attorney without delay if you or a loved one has been injured or killed in a motorcycle accident in California. If you or a loved one were hurt or killed because of someone else's carelessness, you might be able to file a claim for personal injury or wrongful death. Talk to one of our highly regarded attorneys about your options if you're thinking about filing a claim.
Our award-winning San Diego County motorcycle accident attorneys at Arash Law, led by Arash Khorsandi, Esq., have extensive experience advocating for accident victims, with awarded compensation totaling $400 million. Contact (888) 488-1391 or click the "Do I Have a Case?" on our website to schedule a free consultation with one of our lawyers.