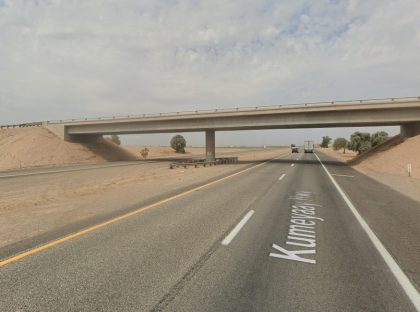 Three people were killed in a two-vehicle head-on collision caused by a wrong-way driver in Imperial County on Monday morning, February 20, 2023.
According to the California Highway Patrol, the deadly fiery crash occurred along Interstate 8 east of Forrester Road, west of the city of El Centro.
CHP officials reported that a Tesla was going in the wrong lane when it collided head-on with a 2016 Acura ILX driven by a 28-year-old male driver from Coachella. The crash resulted in the Tesla being engulfed in flames.
The Acura driver and the Tesla's two occupants were all declared dead at the site by the responders. No further details on their identities were released by the authorities.
The investigation into the crash is still underway, including whether the victims wore their seatbelts, if alcohol or drugs played a role, and what led the Tesla to drive in the wrong way.

Fatal Two-Vehicle Accident Statistics
When it comes to accidental fatalities and hospitalizations, auto accidents are by far the leading cause in the United States. Meanwhile, some two million people die each year on the roads worldwide, and another ten million are injured.
The National Safety Council predicted that more people were killed in traffic accidents in 2020 due to avoidable factors such reckless driving, intoxication, and failure to wear a safety belt. For three years in a row, the death rate had been going down before that year's 8.3% spike. There were 39,107 fatalities caused by automobile accidents in the United States in 2019. The number increased to 42,338 by 2020.
There were 3,847 fatal car accident victims in California in 2020. Single-vehicle accidents accounted for 59% of all fatalities (2,260), while multi-vehicle collisions (two or more cars) accounted for 41%. (1,587 total).
What to Do After a Car Accident
As quickly as possible after a car collision, the authorities must be notified. If you need to talk to the police or your insurance company about what happened, stick to the facts and don't make any assumptions. While they are not at fault, victims often feel they must apologize. An insurance company might use this as grounds to reject a claim.
A copy of the report can be obtained by contacting the appropriate agency. The online form on our website is another option. We'll go to work on your case as soon as we receive the report.
Without obligation and for free, one of our skilled attorneys will analyze the strength of your insurance claim.
Car Accident Lawyers in Imperial County
Please contact us right away to schedule a free consultation with one of our highly rated attorneys if you or a loved one has been injured in a car accident and you believe you may have a personal injury or wrongful death case. If you need legal help filing an insurance claim, please get in touch with us.
Our trusted Imperial County car accident lawyers at Arash Law, led by Arash Khorsandi Esq., have the recognition and vast experience to advocate for accident victims, with awarded compensation totaling $400 million as of yet. Contact (888) 488-1391 or click the "Do I Have a Case?" on our website to schedule a free consultation with one of our lawyers.