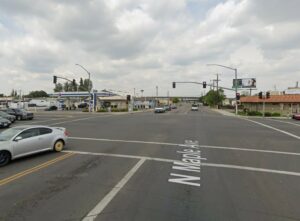 A community service officer was hospitalized after a two-vehicle collision due to a DUI driver in Fresno on Tuesday night, February 21, 2023.
According to the Fresno Police Department, the suspected DUI car crash occurred at about 7:30 p.m. on North Maple Avenue and Belmont Avenue.
Crews were working to remove a downed tree in the area, and the officer was obstructing the road with her patrol car. A driver who did not see the officer's lights on then struck the rear end of the patrol car as she re-entered it, pushing it about 100 feet on the roadway.
The officer, who reported back pain, and the suspect driver, with unspecified injuries, were both brought to the hospital for medical treatment. Both parties were in stable conditions.
The unidentified suspect driver was later arrested for felony driving under the influence. No further details were immediately available.

DUI Accident Statistics
In 2019, 10,142 people were killed in the United States due to drunk driving. The nationwide rate of DUI-related deaths was 3.1 per 100,000 that year; California's rate was 2.4 per 100,000, as 949 persons lost their lives in car accidents. In addition, 26.3% of fatalities in the state and 28.1% of fatalities nationally that year involved drunk driving.
While the rate of fatalities and number of collisions caused by drunk driving have decreased since the 1980s, a second official report found that there are still too many impaired drivers causing problems on the road.
If your BAC is 0.08 or over in California, you will be taken into custody. Drunk drivers pose a threat to pedestrians and other road users because they lack the mental acuity needed to operate a motor vehicle safely.
What to Do After a DUI Accident
If you've been in a DUI car accident, dial 911 right away. In your conversations with the authorities and your insurance company, be as factual as possible and avoid making any assumptions. Many victims falsely believe they must apologize for something they did not do. The insurance company may try to use this as an excuse to avoid paying out.
Contacting the appropriate agency will allow you to obtain a copy of the report. You can also use the contact form on our site to get in touch with us. We'll go to work on your case as soon as we receive the report. Your insurance claim will be reviewed by one of our skilled attorneys at no charge and with no obligation on your part.
DUI Accident Lawyers for Victims in Fresno County
In California, if you or a loved one are injured by a drunk driver, you have the right to pursue financial restitution. Don't hesitate to get in contact with us if you or a loved one has been hurt or killed and you need assistance negotiating a fair settlement offer with the insurance company.
Our trusted Fresno County drunk driving accident victim lawyers at Arash Law, led by Arash Khorsandi, Esq., have extensive experience advocating for accident victims, with awarded compensation totaling $400 million. Call (888) 488-1391 now or click the "Do I Have a Case?" on our website to set up a free consultation with one of our attorneys.