One pedestrian sustained major injures after being struck in Yuba City on Tuesday, February 22, 2022.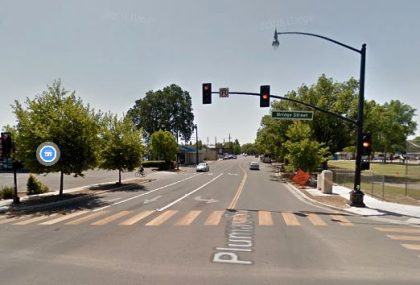 The hit-and-run crash occurred just before 11 p.m. occurred at the intersection of Bridge and Plumas streets.
According to the Yuba City Police Department on Wednesday, a Grass Valley woman identified as 25-year-old Rachel M. was arrested after fleeing the scene of a hit-and-run in Yuba City while under the influence of drugs.
According to the police, Medlin was arrested and booked into the Sutter County Jail on drug and collision-related charges.
According to officers, Medlin was also found to be driving without a license.
The pedestrian was discovered injured and taken to the hospital.
A witness was able to describe the suspect and the suspect vehicle, according to Yuba City police.
Medlin was eventually apprehended near the 3000 block of Walton Avenue, just south of the city. She was also found to be under the influence of narcotics.

Hit-and-Run Accident Statistics
A car accident caused by the carelessness of another driver is never a fun experience for anyone. In any case, if the other driver does not stop, accept responsibility, and offer assistance, the problem will be exasperated.
Traffic collisions are plagued by hit-and-runs, which are unfortunately common. In 2016, there were approximately 2,049 hit-and-run deaths in the United States. In the United States, an estimated 682,000 hit-and-runs take place each year. Pedestrians are frequently the victims of hit-and-run accidents.
Pedestrians have no way of defending themselves against the negligence of others, which is the most common cause of pedestrian accidents.
Drivers who flee the scene after a collision can be motivated by a wide range of reasons. Immigrant status, uninsured status, and legal difficulties can all contribute to intoxication or impairment.
Sutter County Hit-and-Run Accident Lawyer for Victims of Hit-and-Run Crash
A lawyer for hit-and-run accidents should be consulted immediately if you have been injured by a driver who flees the scene of an accident. California hit and run attorneys will not charge you a fee until they have secured the compensation you are entitled to receive.
Medical bills, lost wages, emotional distress, and physical pain and suffering are just some of the damages victims can seek compensation for through a personal injury claim.
Our Sutter County hit-and-run accident lawyers at Arash Law are ready to assist you with your hit-and-run accident injury claim. In cities like Los Angeles and Sacramento, offices are conveniently located throughout the state. In addition to our San Francisco and Riverside locations, we have additional offices.
In the state of California, we are happy to meet you at your place of business or elsewhere in the state if that is more convenient for you. For a free consultation, call our hotline at (888) 488-1391 or fill out the form below.