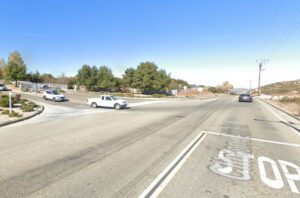 Two people were hospitalized after a multi-vehicle collision in La Cresta near Murrieta in Riverside County on Thursday noon, February 23, 2023.
According to the California Highway Patrol, the crash involving three vehicles occurred around 11:58 a.m. on the eastbound Clinton Keith Road east of Avenida La Cresta.
The report said a vehicle rear-ended two other vehicles, one of which was towing a trailer, that were stopped on the road. Two people outside of the stopped cars sustained injuries due to the crash. They were rushed to the hospital in unknown condition.
The traffic in the area was diverted around the restricted portion of Clinton Keith Road by 1:45 p.m. as the responders waited for the wreckage to be towed.
The cause of the collision is still being looked into by the CHP officials. No further details were immediately available.

Multi-Vehicle Accident Statistics
In the United States, automobile collisions account for the highest rate of both accidental fatality and emergency room visits. Every year, automobile accidents cause two million deaths and ten million injuries across the globe.
Preventable causes like drunk driving, speeding, and not using seatbelts were cited by the National Safety Council as reasons for the increase in traffic fatalities reported in 2020. Prior to that year's 8.3% increase, the death rate had dropped for three consecutive years. Death by automobile accident claimed the lives of 39,107 Americans in 2019. By the year 2020, that figure had risen to 42,338.
There were 3,847 fatal car accidents in California in the year 2020. 2,260 people were killed in accidents involving only one vehicle (59%), while 1,587 people were killed in collisions involving two or more vehicles (41%).
What to Do After a Car Accident
In the event of an automobile accident, you must contact the police immediately. Keep to the facts and avoid forming any assumptions while communicating with the law enforcement or an insurance company. Regrettably, many people who incur losses as a result of accidents blame themselves, even though they played no role in causing those losses. Insurers may reject a claim if the policyholder acts in such a way.
If you request it from the authorities, you should be able to obtain a copy of the report. We also encourage you to use the online form available on our site. We will start investigating your case as soon as we get the report. No matter the size of your insurance claim, one of our expert attorneys will review it at no extra charge to you.
Car Accident Lawyers in Riverside County
If you or a loved one has been hurt in a car accident and you think you may have a personal injury or wrongful death case, please contact us immediately to book a free consultation with one of our highly renowned attorneys. Please get in touch with us if you're seeking legal counsel for an insurance claim.
Our trusted Riverside County car accident lawyers at Arash Law, led by Arash Khorsandi Esq., have the recognition and vast experience to advocate for accident victims, with awarded compensation totaling $400 million as of yet. Contact (888) 488-1391 or click the "Do I Have a Case?" on our website to schedule a free consultation with one of our lawyers.