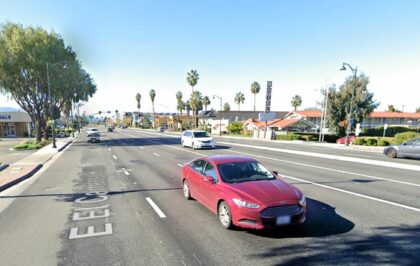 Police are searching for the hit-and-run driver who struck a cyclist in Santa Clara on Thursday afternoon, February 23, 2023.
According to reports, the collision transpired around 4:53 p.m. near El Camino Real and Lawrence Expressway.
Preliminary investigations revealed that the victim was riding his red electric bike in the dedicated bicycle lane on the northbound Lawrence Expressway.
The cyclist went straight and intended to turn left onto El Camino Real while the driver was going westbound and hit the victim. The suspect's vehicle did not stop and fled the accident scene.
The suspect exited El Camino Real westbound and was last seen turning left onto Lawrence Expressway southbound.
The victim stated they were in pain when responders arrived. The cyclist was taken to a nearby hospital by ambulance. The victim remains in critical condition at the hospital.
One witness described the suspect's vehicle as a white pickup truck. The public is asked to assist in identifying the suspect's vehicle.
Should you have any information regarding the incident, contact Traffic Inspector Scott Wilson at (408) 615-4764.


Bicycle Accident Statistics
Despite fewer bicycle accidents in 2018, more than 800 cyclists died in the United States in 2018, a 12% increase from 2001.
The National Center for Health Statistics reports that 712 bikers died from cars in 2010, whereas 377 died due to other causes.
According to statistics, California has the country's highest rate of fatal bicycle accidents. In 2017, the National Bicycle Safety Foundation reported 11,116 bicycle-related injuries and 145 bicycle-related deaths in California.
Riders are frequently at risk from a variety of road hazards. The majority of drivers ignore cyclists' rights even when it is dangerous to do so. Consequently, accidents and even fatalities may occur.
Due to frequent failures to yield the right of way, drivers frequently speed, run through stop signs and red lights, and need to pay attention to the road. A bicycle accident can also be devastating if the driver is drunk or negligent.
What You Should Do After an Accident
Understandably, this is a difficult time for you. We can help you obtain a police report for this incident. Our team will help you get the report by contacting the right people. Then you can pursue compensation for your injuries through the claims process.
Paying upfront isn't necessary—we'll handle everything, including filing your claim. In addition, we will ensure that the responsible party's insurance company pays all of your medical bills.
Should you have any questions or concerns following an incident, we are always available to help.
Reputable Hit-And-Run Accident Attorneys in Santa Clara
Any person injured in a bicycle accident can sue for compensation. In most cases, bicycle accidents can result in personal injury claims filed with the help of a lawyer.
A personal injury claim can compensate accident victims for their lost wages, medical expenses, and pain and suffering.
You may benefit from consulting with your lawyer during this difficult time. The necessary legal paperwork will be managed, updated, and shared with insurance companies on your behalf.
Our Santa Clara bicycle accident attorneys at Arash Law, led by Arash Khorsandi, Esq., have years of experience and can provide comprehensive legal assistance to victims of bicycle accidents. We have recovered over $400 million on behalf of our California clients.
To schedule an initial consultation with our reputable legal team, dial (888) 488-1391 or use our website's "Do I Have a Case?" form.