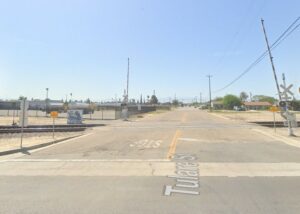 A woman was fatally struck after a train collision in east Bakersfield on Friday, February 24, 2023.
The crash reportedly transpired at noon near East Truxtun Avenue and Tulare Street.
Authorities were notified and discovered the woman, who was pronounced dead at the scene.
The coroner's office sought to release the woman's identity at a later date.
BNSF Railway investigators handled the investigation, and traffic delays were expected in the area.
According to officials, eastbound East Truxtun Avenue lanes two and three are closed for investigation.

Fatal Train Collision Statistics
As per the National Transportation Safety Board, pedestrians are more likely to die in train accidents than automobile accidents. Faulty crossings, outdated or missing safety equipment and inadequate warning systems are frequently responsible for train accidents.
Trains are estimated to collide with people or cars every two hours. A train accident claims the lives of over a thousand people every year. A total of 2,300 people were injured, and 600 people were killed.
Trains are the most efficient mode of transportation. A conductor's capability to repair and frequency play a critical role in the safety of employees and passengers. As a result of their recklessness or short shortcuts, passengers are at risk.
Since 1997, nearly 7,200 people have died in train accidents in the United States. Train collisions with pedestrians are the leading cause of fatalities on American railroads, outnumbering all other reasons.
Derailments, worn-out tracks, disregard for safety requirements, inadequate security, and other forms of negligence are the most common causes of railway accidents.
How Do I Acquire a Police Report After an Accident
We understand that this is a trying time for you. Our team can help you obtain a police report for this incident. We will assist you in obtaining a copy of the information by contacting the appropriate individuals. Afterward, you can begin the claims process and seek compensation for your injuries.
Our team will handle everything, including filing your claim, so you won't have to pay anything upfront. Additionally, we will ensure that all of your medical bills are paid by the responsible party's insurance company.
Should you have any questions or concerns about how to proceed following such an accident, don't hesitate to contact us.
Reliable Train Accident Lawyers in Bakersfield
Those injured in a California rail disaster must seek legal representation immediately. Suppose you have been injured in an accident or lost a loved one due to the negligence of another. In that case, an attorney can assist you in obtaining compensation from your insurance company.
Compensation needs to be given to victims for the suffering they have endured. You can sue for damages if you have been injured in a train accident, regardless of who was at fault.
Our Bakersfield train accident lawyers at Arash Law, headed by Arash Khorsandi, Esq., are dedicated to advocating for victims of these collisions. Our clients have been awarded $400 million in compensation through our efforts.
You can contact our legal team by calling (888) 488-1391 or clicking the "Do I Have A Case?" link on our website.