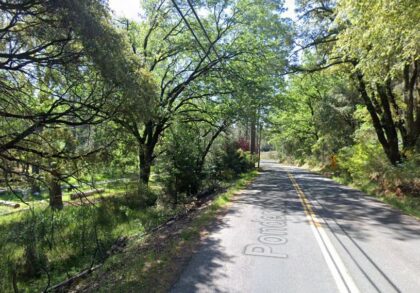 Two people were trapped in a truck following a rollover crash in Placer County on Friday afternoon, February 24, 2023.
According to authorities, the collision occurred around 2:29 p.m. near Weimar.
Reports stated that firefighters discovered the vehicle about 40 feet down a snowy embankment, with two passengers needing rescue.
Rescuers got the two passengers and brought them back to the roadway using a rope system. They were evaluated by paramedics and required no further treatment.
AMR ambulance and Auburn City Fire Department crews provided mutual aid.
The investigation into the crash is currently ongoing.

Single-Vehicle Crash Statistics
The Fatality Analysis Reporting System reported that 38,824 fatal car accidents occurred in the United States in 2020, resulting in 35,766 fatalities. In every 100 million miles driven, there were 1.34 or 11.7 fatalities per 100,000 people.
Every year in California, unintentional traffic events cause approximately 10,000 fatal car accidents. This diagram depicts the gravity of the problem.
Since 2013, there has been a 23.5% increase in fatal car accidents in California. In 2017, 3,898 people were killed, and 276,823 were injured in 4,850,866 car accidents.
To protect your safety and the safety of those around you, you must follow traffic laws, maintain a safe following and leading distance, and drive with caution. Even with these precautions, fatal car accidents occur frequently.
What To Do Following an Accident
When you collect information, it is wise to file a police report assuming it is safe. This allows the police to record what occurred during the accident in a central database. These records are kept within the police department, and the information is held securely in one location.
The police usually attend the scene of an accident in any event, but if they don't, you can contact your local police by phone or in-person to file an accident report. It will then be up to the police to collect that information on their own if they are not present in the collision, and a police report will then be prepared.
Trusted Truck Accident Attorneys in Placer County
Accident victims who sustain serious injuries may require additional time and effort to recover fully. Furthermore, they may be unable to find work and face significant medical debt.
Insurance claims can take time to process. Working with our firm will guarantee that your lawsuit is successfully resolved.
You can lessen your financial burden by seeking compensation from the responsible party or insurance company. To win your case, you should hire an experienced attorney to help you navigate through the complex legal system.
Our Placer County truck accident attorneys at Arash Law, headed by Arash Khorsandi, Esq., are dedicated to meeting the needs of our clients at all times. You can count on us to speed up the process so you can get back to your regular activities as soon as possible.
To learn more about your legal options, call us at (888) 488-1391 or through our online "Do I Have A Case?" form.