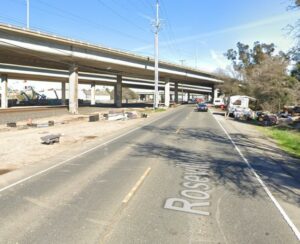 According to the authorities, a pedestrian was fatally struck in the north Sacramento area on Friday, February 24, 2023.
The accident occurred just before 6:45 p.m. on Roseville Road, close to Haggin Oaks Golf Complex.
The Sacramento Police Department reported that the driver had kept going after the collision but had been found soon after.
The pedestrian, who could only be identified as a man in his 20s, was declared dead at the scene.
While law enforcement was present, Roseville Road was blocked between Longview Drive and Auburn Boulevard.
The collision remains under investigation.

Fatal Pedestrian Accident Statistics
In 2021, the Governors Highway Safety Association reported 7,485 pedestrian deaths, the most in more than four decades.
In 2020, speed-related pedestrian fatalities increased from 7.2% to 8.6%. Speed has a considerable impact on pedestrian safety. Pedestrian fatalities rise with vehicle speed, reaching 90% at 58 mph.
There were 5,937 pedestrian deaths in the United States in 2016. Every minute, 88 individuals were expected to die by the end of the year. In 2017, at least 137,000 pedestrians were injured and sought medical assistance.
Deaths and collisions involving pedestrians occur most frequently in California. In 2012, about 14,000 pedestrians were injured, with 893 dead.
Pedestrians must always use pathways, avoid drugs and alcohol, and cross parking lots and driveways cautiously. They will be more likely to prevent accidents if they follow these recommendations.
What Should I Do After an Accident?
Once you have gathered the necessary information, file a police report, assuming it is secure. In this way, the police can store information about the accident on a central database, keep those records in a file within the department, and ensure that the data is kept safely in one location.
Generally, the police will arrive at the scene of an accident, but in the unlikely event that they don't, you can file an accident report by calling your local police or going in person. By doing so, the police can still collect the necessary details even if they are not at the collision scene.
Sacramento County Car Accident Lawyers
Pedestrians injured in an accident have the same rights as any other accident victim. Our legal team can advise you on maximizing your claim with insurance providers, ensuring you receive the highest settlement possible.
You can trust our Sacramento County pedestrian accident lawyers at Arash Law, led by Arash Khorsandi, Esq., who have considerable experience defending victims' rights in court. Clients have received compensation totaling $400 million due to our efforts.
Schedule a free legal consultation with one of our lawyers by calling (888) 488-1391 or visiting the "Do I Have a Case?" section on our website.