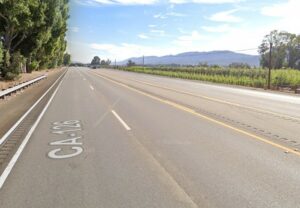 According to the California Highway Patrol, a 48-year-old Valencia woman died in a fatal two-vehicle collision on Highway 126 west of Fillmore on Friday afternoon, February 24, 2023.
According to the CHP, the accident was discovered shortly after noon just east of Pyle Road, between Fillmore and Santa Paula.
According to Sgt. Michael Untalan of the CHP's Ventura area office, a 30-year-old Santa Paula woman was driving an out-of-control 2014 Dodge Durango SUV eastbound on the freeway.
The Valencia woman's identity has not been released because her relatives have not been notified. She was operating a 2017 Honda Civic when the Durango struck it.
Untalan claimed that the Durango struck the front driver's side of the Civic in an impact resembling a T-bone collision.
The Durango ended up on its side on an embankment, while the Civic came to rest in the middle of the roadway. Authorities claimed that both drivers were trapped inside their cars following the collision.
At the scene, the Civic's driver was declared dead.
Although the Durango driver had suffered severe injuries, it was anticipated that he would survive.
The patrol's investigators discovered that neither alcohol nor drugs were a factor.
The Ventura CHP is requesting that anyone who saw the accident call them at 805-662-2640.

Fatal Two-Vehicle Crash Statistics
Vehicle collisions account for the greatest number of accidental deaths and hospitalizations in America. Meanwhile, around two million people worldwide are killed and ten million more are injured in traffic-related incidents each year.
According to the National Safety Council, more people died in car accidents in 2020 because of risky behaviors such as speeding, drinking and driving, and failing to wear a seat belt. The death rate had been falling for three years in a row prior to that year's 8.3% increase. There were 39,107 fatalities in the United States due to automotive accidents in 2019. The figure increased to 42,338 by 2020.
It was reported that 3,847 people perished in car accidents in California in 2020. The majority of fatalities (2,260 or 59%) were the result of single-vehicle accidents, while almost half (1,587 or 41%) were the result of multiple-vehicle accidents.
What Should I Do After an Accident?
It is essential to report a car crash to the proper authorities immediately. It's crucial to be as factual as possible and avoid forming any assumptions while answering questions from the police or the insurer. Victims often feel obligated to apologize, even when they did nothing wrong. The insurer might cite such behavior as grounds for a claim denial.
Please contact the relevant authority in order to obtain a copy of the report. You can also fill out our online form. We will start working on your case as soon as we receive the report. One of our skilled attorneys will analyze your insurance claim at no cost and with no obligation on your behalf.
Ventura County Car Accident Lawyers
If you've been hurt in a car crash and need financial compensation, you can sue the at-fault driver in a civil court in California. If you need help submitting an insurance claim, don't hesitate to get in touch with our skilled legal team.
Call our law firm right now to schedule a free first consultation with one of our highly regarded attorneys if you or a loved one has been injured in a car accident and you want to make a claim for personal injury or wrongful death.
Our trusted Ventura County car accident lawyers at Arash Law, headed by Arash Khorsandi Esq., have the recognition, vast experience, and expertise to advocate for accident victims. Our clients have been awarded compensation totaling $400 million as of yet.
Contact (888) 488-1391 or click the "Do I Have a Case?" on our website to schedule a free consultation with one of our lawyers.