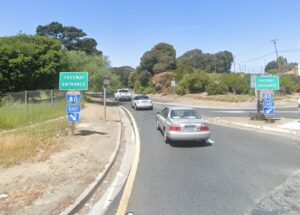 One person was killed after a single-car crash that triggered a multi-vehicle pileup in San Pablo on Saturday morning, February 25, 2023.
According to the California Highway Patrol, the fatal collision occurred shortly before 6:00 a.m. on eastbound Interstate 80 at the San Pablo Dam Road exit.
Jarod H., 37, of Oakland, was driving a black Honda CRV when it overturned for reasons still under investigation. The authorities believed he was struck and killed by a second vehicle after crawling out of the wreckage of his car.
Several other vehicles collided with the overturned Honda before the responders arrived. Fortunately, no additional injuries were reported from the people involved. The damaged Honda ended up lying on its roof, upside down, in the highway's center.
The eastbound freeway was completely shut down for about four hours due to the crash.

Fatal Car Accident Statistics
Among all causes of accidental death and hospitalization in the US, car accidents rank first for both. Moreover, two million people lose their lives and ten million are injured every year because of car accidents worldwide.
The National Safety Council attributes the rise in traffic deaths in 2020 to avoidable factors such drunk driving, speeding, and the use of seatbelts. The death rate had decreased for three years in a row prior to that year's 8.3% increase. In 2019, 39,107 Americans lost their lives in car accidents. It reached 42,338 by 2020.
In the year 2020, 3,847 people were killed in car accidents in California. There were 2,260 fatalities in single-vehicle accidents (59%) and 1,587 deaths in multi-vehicle (two or more) incidents (41%).
What to Do After a Car Accident
Always contact the proper authorities after being involved in a car accident. Whenever you have to speak with the law enforcement or an insurance company, it's important to be as factual as possible and avoid making any assumptions. Accident victims who were not at fault frequently feel they must apologize. The insurance company may consider this type of conduct as grounds to deny a claim.
A copy of the report should be made available upon request from the appropriate authorities. If you'd rather have us send the request instead, please fill out the form on this page. As soon as we receive the report, we will begin our evaluation into your matter. No matter the size of your insurance claim, one of our seasoned attorneys will review it for free.
Car Accident Lawyers in Contra Costa County
You should get in touch with us right away to schedule a free consultation with one of our well-respected lawyers if you or a loved one has been wounded in a car accident and you believe you may have a personal injury or wrongful death case. If you need a lawyer for an insurance claim, don't hesitate to get in touch with us.
Our trusted Contra Costa County car accident lawyers at Arash Law, led by Arash Khorsandi Esq., have the recognition and vast experience to advocate for accident victims, with awarded compensation totaling $400 million as of yet. Contact (888) 488-1391 or click the "Do I Have a Case?" on our website to schedule a free consultation with one of our lawyers.