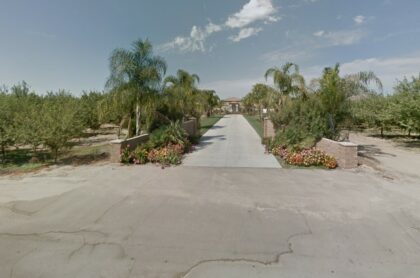 A firefighter sustained minor injuries while fighting a house fire near Caruthers in Fresno County on Saturday afternoon, February 25, 2023.
According to Cal Fire/Fresno County Fire Protection District, the two-alarm fire broke out shortly after 2:00 p.m. at 1100 East Conejo Avenue near Cedar Avenue.
Fire officials said a 4500-square-foot house caught fire on the second story, destroying several interior rooms. The Kingsburg Fire Department and Fresno County Fire were required to extinguish the fire.
No one was reportedly inside the house when the fire broke out. But one unidentified firefighter sustained minor injuries to the head and was taken to a local hospital. The firefighter is now in recovery.
The cause of the fire, currently under investigation, is still unknown, according to Cal Fire authorities.

Workers' Compensation Accident Statistics
Workers' compensation claim statistics are compiled by the Insurance Information Institute. The ten occupations with the highest rates of workers' compensation claims in 2019 were: laborers, commercial truck drivers, nursing aides, stockers and order fillers, retail salespeople, light truck drivers, general maintenance and repair workers, registered nurses, construction workers, and janitors and cleaners.
In 2017 and 2018, the major causes of death and injuries on the job were fires and explosions, transportation accidents, falls, deliberate injuries (including homicides), contact with objects, and exposure to hazardous substances and conditions.
What to Do After a Workplace Accident
After experiencing any mishap, you must get medical attention right away. Your injuries may worsen if you wait to get medical treatment. Workers' comp may try to claim that you caused these "additional injuries" and are consequently responsible for your care. Make sure the insurance company has no reason to reject your claim. Your health and ability to pursue a compensation claim for your injuries will benefit from a quick visit to the hospital.
After getting checked out by a doctor, you need to let your supervisor know what transpired. If the insurer is not alerted promptly, the claim could be refused. Although the company has stated that it will file a claim, there is no assurance that it will. It's important to remember that the firm may not take your side if the insurance on the business is in jeopardy.
Workers' Compensation Lawyers in Fresno County
The state of California has a workers' compensation law that provides benefits to employees who are hurt on the job. Injuries sustained on the job that are not the result of "horseplay" or similar negligence are covered by workers' compensation insurance regardless of blame.
The method allows people to recoup the costs of medical care, time off work, and disability benefits without proving that their employer or anybody else was at fault. In the event of a claim, our skilled attorneys will guide you through the process, defend your rights, and work toward a favorable outcome (or take your case to court, if necessary).
Our trusted Fresno County Workers' Compensation attorneys at Arash Law, led by Arash Khorsandi, Esq., have extensive experience and accolades advocating for accident victims. Our clients have been awarded compensation totaling $400 million.
Call (888) 488-1391 now or click the "Do I Have a Case?" on our website to set up a free consultation with one of our attorneys.