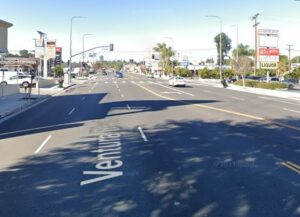 A pedestrian collision struck and killed one person in Los Angeles on Saturday, February 25, 2023.
Reports confirmed that the deadly crash occurred at night in Tarzana at 19645 Ventura Boulevard.
Authorities were notified and discovered that a vehicle had struck a pedestrian.
When first responders arrived, they discovered the victim with severe injuries and confirmed that the victim had succumbed to their injuries.
Meanwhile, the driver who was involved remained at the scene. They were in a white Ford SUV with significant front-end damage and a cracked windshield.
The victim's identity was withheld until their next of kin was notified.
Further investigations on the cause of the collision are underway.

Fatal Pedestrian Collision Statistics
The Governors Highway Safety Association reported a forty-year high of 7,485 pedestrian deaths in 2021.
In the same year, there were 470 pedestrian deaths in California, increasing to 463 in 2020 from 460 in 2019.
Incidents have increased dramatically across the country in recent years. Despite accounting for only 17% of the population, pedestrian deaths among adults 65 and older rose by 20% in 2020.
People involved in these accidents frequently sustain serious injuries or even die as a result. Head trauma, such as concussions or brain bleeds, traumatic brain injuries, and other disabling injuries, are common causes of pedestrian injury.
Injuries sustained in these types of accidents may have long-term or functional consequences for an individual; hence pedestrians should adhere to road guidelines to remain safe.
What Do I Do After an Accident
We can help you obtain a police report if you have been involved in an accident.
The only thing we need from you is the details of what happened and where it happened. After that, we will contact the relevant parties and get you all the necessary information.
Our team handles this process for every client, so you don't have to be concerned about your insurance covering damage, or injuries-we'll guarantee that everything is covered!
Reliable Pedestrian Accident Attorneys in Los Angeles
Pedestrian accidents frequently result in serious injuries, high medical bills, and lost wages.
An insurance company may obtain a recorded statement against you to lower their liability or dispute your liability; thus, a legal representative is required when an insurer attempts to corner you.
You can rely on our Los Angeles pedestrian accident lawyers at Arash Law, headed by Arash Khorsandi, Esq., to investigate the situation as soon as possible. We use tried-and-true legal strategies and manage insurance company negotiations so that damages can be accurately estimated throughout the settlement process and litigation is not required.
We have won numerous cases, and our experienced attorneys are always available to address your concerns and provide critical legal advice.
To schedule a free consultation, contact us at (888) 488-1391 or our website's "Do I Have a Case?" link.