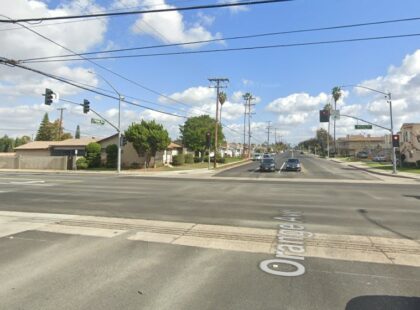 Two people were killed while one was severely injured in a two-vehicle collision in Cypress on Saturday afternoon, February 25, 2023.
According to the Cypress Police Department, the deadly crash occurred at about 4:26 p.m. at the intersection of Orange Avenue and Walker Street.
The circumstances leading to the crash remain under investigation, but it reportedly involved a Tesla SUV and a Ford Flex. The Tesla's driver and passenger were both declared dead on the spot.
The Flex driver was rushed to UCI Medical Center with serious wounds. No further updates on their identities and the injured driver's current state were released.
There wasn't any other information available right away as the investigation continued. Any potential witnesses is urged to contact the authorities.

Fatal Two-Vehicle Accident Statistics
When it comes to unintentional injuries and fatalities in the United States, automobile accidents rank first as the leading cause. Additionally, two million people lose their lives and ten million are injured every year because of auto accidents worldwide.
Preventable traffic deaths rose in 2020, according to the National Safety Council. The previous three years showed a decreasing death rate, thus the 8.3% increase came as a shock. In 2019, 39,107 individuals were killed in motor vehicle accidents in the United States. By the year 2020, the toll had hit 42,338.
In the year 2020, 3,847 people in California lost their lives in car accidents. Less than half, or 41% (1,587), occurred in crashes involving three or more vehicles, while 59% (2,260) occurred in single-vehicle accidents.
What to Do After a Car Accident
A car crash must be reported to the police right away. Be as factual as possible and avoid making any assumptions while speaking with the police or an insurance company. Many people feel obligated to apologize to accident victims even if they were completely innocent. Occasionally, insurers will use such behavior as evidence for denying a claim.
You may request a copy of the report from the relevant authorities. Our site also features a convenient online form for your convenience. We will go to work on your case as soon as we gain access to the report. No matter the size of your insurance claim, one of our seasoned attorneys will review it at no extra charge to you.
Car Accident Lawyers in Orange County
Contact us right immediately to schedule a free consultation with one of our highly rated attorneys if you or a loved one has been injured in a car accident and you believe you may have a personal injury or wrongful death case. If you need legal representation for an insurance claim, you should contact us right away.
Our trusted Orange County car accident lawyers at Arash Law, led by Arash Khorsandi Esq., have the recognition and vast experience to advocate for accident victims, with awarded compensation totaling $400 million as of yet. Contact (888) 488-1391 or click the "Do I Have a Case?" on our website to schedule a free consultation with one of our lawyers.