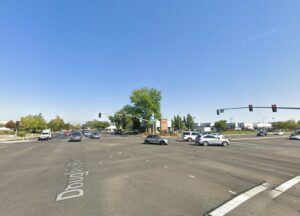 Two minors and a 76-year-old woman sustained injuries after a suspected DUI crash in Granite Bay, Placer County, on Saturday afternoon, February 25, 2023.
Authorities confirmed the collision occurred around 4:00 p.m. at the Walmart entrance on Douglas and Sierra College boulevards.
According to reports, the victims were at a Girl Scout stand outside the building when a Tesla crashed into them.
Paramedics treated two minors, ages 9 and 10, who suffered moderate injuries, while a 76-year-old woman suffered significant injuries. They were all taken to the hospital.
The 69-year-old Tesla driver of the Tesla, Gary B. of Cameron Park, was taken into custody on suspicion of drunk driving.
In addition to driving under the influence, he was also charged with causing bodily harm.

DUI Crash Statistics
The National Highway Traffic and Safety Administration reports that approximately 32 people are killed in drunk-driving accidents every 45 minutes. There were 11,654 traffic deaths in 2020 due to drunk driving, a 14% increase over the previous year. These deaths could have all been prevented.
A staggering 30% of traffic fatalities occur due to drunk drivers (with BACs over .08 g/dL). Annually, approximately 10,500 people died in drunk-driving accidents from 2011 to 2020.
DUI Management Information System data shows that alcohol-related crashes caused 5.8% more deaths in 2017 than in 2016.
Drunk driving puts passengers, other drivers, and the environment in danger. Every year, 2 billion gallons of gas are wasted because of the reckless driving of intoxicated drivers.
Given these statistics, everyone should drink responsibly and avoid driving after drinking.
What Should I Do Following an Accident
Understandably, this is a difficult time for you. If you're looking to get a police report for this incident, we can help. Our team will assist you in obtaining the information by contacting the appropriate parties. You can then initiate a compensation claim and move forward with the process.
We will take care of everything, including filing your claim, so you do not have to worry about paying us upfront. Additionally, we will ensure that the responsible party's insurance covers your medical bills.
We are here to help you with any questions or concerns after an accident like this.
Trusted DUI Attorneys for Victims in Placer County
Following a DUI accident, victims rarely recover and can return to their former level of functioning. Accordingly, California's injury laws cover vehicle-related injuries.
The negligent driver who hit and injured you may be liable for your injuries in a lawsuit for personal injury. In addition to lost wages, extended rehabilitation, and high medical expenses, accident victims often suffer emotional difficulties.
You can count on our Placer County DUI accident victims' lawyers at Arash Law, led by Arash Khorsandi, Esq., who fight aggressively for clients injured in drunk driving accidents. Drunk drivers should be held accountable for their actions.
We strive to ensure our clients receive the maximum compensation for their families and medical expenses.
If a drunk driver has injured you, contact us at (888) 488-1391 or click the "Do I Have A Case?" link on our website.