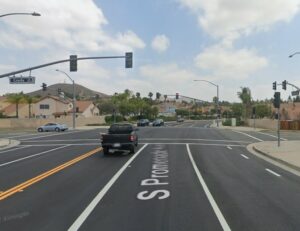 Three people sustained injuries following a two-vehicle collision in Corona on Saturday morning, February 25, 2023.
According to the Corona Police, the crash involving two sedans occurred around 2:13 a.m. near the intersection of South Promenade Avenue and Cresta Road.
The vehicles involved were a gray 2003 Acrua TL driven by a 17-year-old boy from Corona and a 2013 Volkswagen Jetta driven by a 44-year-old woman from Corona with a 50-year-old male passenger from Riverside.
The 17-year-old sustained unspecified injuries and was transported to a hospital in critical condition, while the Volkswagen's two occupants were also hospitalized with significant injuries. No updates on their current states were released.
The circumstances leading to the crash remain under investigation, and it is currently unknown whether alcohol or drugs played a role. Calling the authorities is highly encouraged for anyone with helpful information.

Two-Vehicle Accident Statistics
Car accidents are the leading cause of unintentional death and accidental hospitalization in the United States. Every year, in the whole world, automobile accidents kill two million people and injure ten million more.
The National Safety Council said more people were killed on the road in 2020 due to avoidable factors such as drunk driving, speeding, and not wearing seatbelts. Before that year's 8.3 percent spike, the death rate had fallen for three years in a row. It is estimated that 39,107 people died in traffic accidents in the United States in 2019. By 2020, it had increased to 42,338.
When the year 2020 rolled around, 3,847 persons lost their lives in car accidents in California. 2,260 lost their lives in accidents involving a single car (59%), while 1,587 people lost their lives in collisions involving two or more cars (41%).
What to Do After a Car Accident
After an automobile collision, you should always report it to the police. Be as factual as possible and avoid making any assumptions in communicating with law enforcement or an insurance company. Many people who were not at fault in an accident nonetheless feel they need to offer an apology. Insurers may use this sort of behavior as an excuse to reject a claim.
The relevant authorities should be provided with a copy of the report upon request. Fill out this form if you'd rather us send the request on your behalf. We'll go to work on your case as soon as we have the report. One of our seasoned attorneys will gladly analyze your insurance claim, no matter how big or small, at no cost to you.
Car Accident Lawyers in Riverside County
If you or a loved one has been hurt in a car accident and you think you may have a personal injury or wrongful death case, you should get in contact with us right away to book a free consultation with one of our highly regarded attorneys. Don't wait to get in contact with us if you need legal representation for an insurance claim.
Our trusted Riverside County car accident lawyers at Arash Law, led by Arash Khorsandi Esq., have the recognition and vast experience to advocate for accident victims, with awarded compensation totaling $400 million as of yet. Contact (888) 488-1391 or click the "Do I Have a Case?" on our website to schedule a free consultation with one of our lawyers.