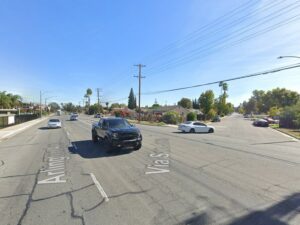 A woman was struck and killed by a vehicle while walking at an intersection in Riverside on Saturday morning, February 25, 2023.
The Riverside Police Department reported that the fatal crash occurred early morning at about 5:00 a.m. at the Arlington Avenue and Via San Jose intersection.
The pedestrian was reportedly walking at the intersection when she was struck by a black Chevrolet sedan heading west on Arlington. The unidentified woman was taken to Riverside Community Hospital, eventually passing away on that day.
The driver of the car involved was unharmed and cooperative with the responding authorities. No additional information on their identity was released.
There were no further details immediately available. Calling the Riverside Police is encouraged to anyone with helpful information.

Fatal Pedestrian Accident Statistics
The number of people killed in car accidents fell by 14% between 2007 and 2016, according to data published by the Governors Highway Safety Association. However, the number of pedestrian deaths increased by 27% over that same period. According to these numbers, it is currently extremely risky to stroll along U.S. roads.
The number of pedestrian deaths in the United States was 5,977 in 2016. By the end of that year, 88 people were dying per minute, on average. In 2017, around 137,000 pedestrians were treated in hospitals for injuries.
Around 14,000 pedestrians were injured and 893 died in California in 2012. Many studies have shown that this is one of the leading causes of pedestrian accidents in the state.
What to Do After a Pedestrian Accident
After an automobile collision, it's always best to report it to the authorities. If you need to talk to the police or an insurance company, stick to the facts and don't make assumptions. So many people who weren't at fault in accidents feel obligated to apologize anyhow. Such behavior can be used by the insurance provider against a claim.
When asked, officials should provide a copy of the report. Fill out the form on this page if you'd rather have us send the request on your behalf. The inquiry into your case will begin as soon as we get the report. Get a free legal evaluation of your insurance claim from one of our seasoned attorneys, no matter how big or little.
Pedestrian Accident Lawyers in Riverside
If involved in an accident, pedestrians in California have the same protections under the law as motorists, cyclists, and passengers. If you or a loved one suffered injuries in a car accident that wasn't your fault, you might be able to file a personal injury or wrongful death lawsuit.
Our trusted Riverside pedestrian accident lawyers at Arash Law, led by Arash Khorsandi, Esq., have extensive experience and accolades advocating for accident victims. Our clients have been awarded compensation totaling $400 million.
Call (888) 488-1391 now or click the "Do I Have a Case?" on our website to set up a free consultation with one of our attorneys.