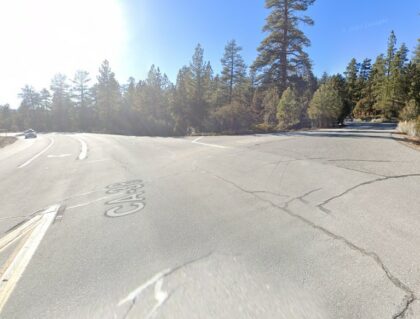 A woman was killed after getting run over while helping someone stuck in the snow near Big Bear Lake on Saturday, February 25, 2023.
According to the local authorities, the fatal crash occurred near Polique Canyon in Big Bear Lake, San Bernardino County.
Although the circumstances of the tragedy are unknown at this point, the victim, identified as Barbie H., apparently made an effort to help a person who got stuck in the snow when she was run over by a vehicle.
The victim was transported to a hospital, but due to the bad weather, an airlift was not possible. She later died while sedated the following early morning.
No further details on the crash and the driver involved was immediately available as the investigation continued.

Fatal Pedestrian Accident Statistics
The Governors Highway Safety Association's data revealed a 14% decline in fatal car accident injuries between 2007 and 2016. Yet throughout the same period, the percentage of fatalities involving pedestrians increased by 27%. These statistics suggest that walking in the street is becoming riskier in the United States.
In 2016, 5,977 pedestrian deaths were officially documented in the US. By the end of that year, 88 people were dying every minute on average. Over 137 thousand pedestrians received medical attention for injuries in hospitals in 2017.
In 2012, there were 893 pedestrian fatalities and over 14,000 injuries in California. This has been found to be the main reason for pedestrian fatalities and injuries in California.
What to Do After a Pedestrian Accident
You must call the police right away if you or a loved one has been involved in a pedestrian accident. Whether communicating with law enforcement or an insurance company, it is imperative to be truthful and avoid making any assumptions. Victims may apologize even though they had nothing to do with what occurred. The insurer might reject a claim as a result of this action.
Make contact with the relevant departments and ask for a copy of the report. You can fill out an online form right here as well. We will get started on your request as soon as we gain access to the report. Without additional cost, one of our best attorneys will review your insurance claim.
Pedestrian Accident Lawyers in San Bernardino County
In California, drivers, motorcyclists, and passengers all receive the same protections in the event of an accident that pedestrians do. You might be eligible to bring a wrongful death or personal injury lawsuit against the party at blame if you or a loved one suffered injuries in an automobile accident that wasn't your fault.
Our trusted San Bernardino County pedestrian accident lawyers at Arash Law, led by Arash Khorsandi, Esq., have extensive experience and accolades advocating for accident victims. Our clients have been awarded compensation totaling $400 million.
Call (888) 488-1391 now or click the "Do I Have a Case?" on our website to set up a free consultation with one of our attorneys.