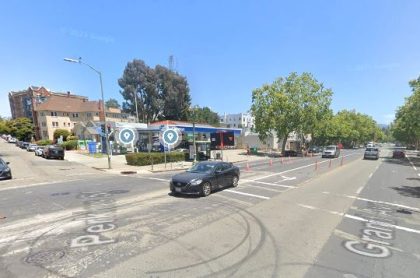 At least three firefighters were hospitalized after an Oakland hook-and-ladder fire truck crashed into an apartment building near Lake Merritt on Saturday night, February 26, 2022.
The accident transpired at approximately 12:45 p.m. at the intersection of Grand Avenue and Perkins Street, near Lake Merritt.
A car in front of the ladder truck attempted to make a left turn. The ladder truck then swerved to avoid hitting the car but crashed into the storefront of a ground-floor business instead.
The fire truck sustained major damage and is considered totaled. At least three firefighters sustained unspecified injuries in the crash and were taken to Highland Hospital for treatment.
No other injuries were reported. The accident is currently under further investigation.

Car Crash Statistics
Every year in the United States, an estimated 500 people are killed when cars collide into stores, restaurants, and office buildings. This equates to 500 or more car-in-building crashes every year, compared to 0 earthquake deaths, 41 tornado deaths, and 27 lightning strike deaths.
The most common causes of these incidents are driver and pedal errors, which account for 30% and 26% of all crashes, respectively.
According to storefrontsafety.org, the remaining incidences of cars crashing into buildings are caused by drunk driving (17%), traffic accidents (11%), and medical problems (9%). (8 percent ).
Operator mistake, according to Reiter, frequently means that drivers accelerated too soon, were speeding, or were in the wrong gear. Nonetheless, the pedal mistake always suggests that the driver stomped on the gas pedal rather than the brake.
Car Crash Lawyers for Victims in Alameda County
Personal injury cases can quickly become complicated, especially when evaluating medical records and determining what variables contributed to your injury.
Putting together the documents required to provide a compelling case can take time and expertise. That is why you should call a professional California personal injury law firm.
If you believe you have grounds to file a claim, speak with a local car accident attorney in California who can help you navigate car accident regulations.
Victims of personal injury have the right to seek financial compensation for medical bills, lost wages, emotional distress, and pain and suffering caused by the accident by filing a personal injury claim.
The competent Alameda County car crash attorneys at Arash Law have secured $200 million in compensation for personal injury clients. We will prioritize your case in the same way we did for them. Call us at (888) 488-1391 right away for a free, no-obligation legal consultation, or fill out our short online intake form.