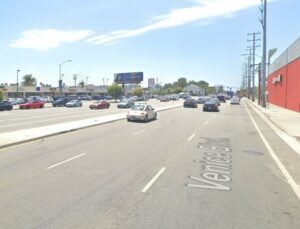 Police are looking for the hit-and-run driver who fatally struck a pedestrian near Culver City on Sunday, February 26, 2023.
According to reports, the deadly crash occurred early in the morning on Venice Boulevard, just east of Robertson Boulevard.
Authorities were notified and discovered that a pedestrian was struck by an unknown vehicle.
Paramedics rushed the victim to a nearby hospital, and later pronounced dead. Details on the victim's identity have not been released.
The suspected driver and their vehicle were unknown to investigators.
Anyone with information about the crash was asked to call the Los Angeles Police Department's West Traffic Division at (213) 473-0234.

Fatal Hit-And-Run Crash Statistics
The AAA Foundation for Traffic Safety estimates 680,000 people are injured or killed annually in hit-and-run accidents. A rise in hit-and-run fatalities has been observed in recent years. In 2020, pedestrian fatalities from these accidents accounted for 24% of pedestrian deaths.
A hit-and-run occurs when a vehicle collides with another and flees without helping the injured.
In addition to the anguish and financial and emotional costs associated with hit-and-run accidents, victims can suffer injuries due to negligence or a delay in providing medical care.
Pedestrian injuries are caused primarily by distracted driving. A driver may communicate with passengers, change the radio, or talk on the phone while driving. Multitasking increases the likelihood of missing someone crossing the street.
Wearing bright clothing in certain situations is essential to reduce the likelihood of an accident. By crossing the street slowly, approaching cars will be able to see you.
What Should I Do After an Accident
The first thing you should do after being involved in a vehicle collision is to stop. The law severely punishes hit-and-runs. If anyone is killed or injured in a crash and law enforcement is not yet present, the police or CHP should be notified immediately. Anyone in the car at the time must report a collision to police or CHP if the driver was physically incapable.
You should move your vehicle off the road if no one is hurt or killed. The authorities may impound those vehicles that are not driven or removed from the road.
Hit-And-Run Accident Lawyers in Culver City
Traumatized accident victims may need considerable time and effort to recover. Medications can be expensive, and they may lose their jobs if they can't afford them.
A person injured in such an accident should seek legal advice immediately. Hit-and-run drivers may still be held accountable for their actions even if they are never identified.
When you work with our legal team, you can be confident that your case will be handled professionally and efficiently. In all cases, reckless drivers should be held accountable.
Our Culver City hit-and-run accident lawyers at Arash Law, led by Arash Khorsandi, Esq., have a successful track record of representing hit-and-run victims. With us, you won't be required to pay anything out of pocket for a favorable settlement.
To schedule an initial consultation, please call (888) 488-1391 or through our website's "Do I Have a Case?" link.