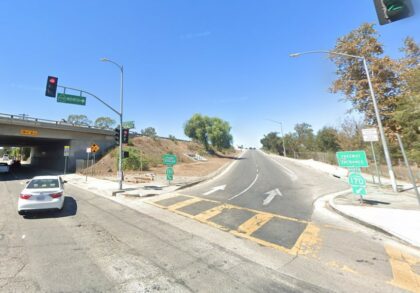 According to authorities, one person was killed in a fatal two-vehicle collision in North Hollywood on Sunday, February 26, 2023.
According to the California Highway Patrol, the collision was reported at 11:02 p.m. on Sunday on the Magnolia Boulevard off-ramp of the northbound Hollywood (170) Freeway.
The cars were identified as a silver Toyota Camry and a black Honda CRV.
According to CHP Officer Elizabeth Kravig of the City News Service, one person hurt in the collision passed away at a hospital.
There was no information on whether there were any additional injured people, according to Kravig's description of the deceased patient.
A SigAlert was issued for the Hollywood Freeway's Magnolia Boulevard off-ramp for the purpose of the CHP's crash investigation.

Fatal Two-Vehicle Crash Statistics
A report released by the Fatality Analysis Reporting System stated that 38,824 people were killed in motor vehicle crashes in 2020, resulting in 35,766 fatalities. Statistically, there are 11.7 deaths per 100,000 people and 1.34 deaths per 100 million miles driven.
Based on projections, the number of road deaths in California was expected to increase from 3847 in 2020 to 4,258 in 2021.
Several human errors are responsible for car accidents, including speeding, intoxicated driving, and texting. Various factors, such as poor road design, weather, and car problems, can cause accidents.
Significant financial losses are associated with automobile accidents for individuals, their families, and nations. In addition to raising medical costs, these costs reduce productivity and cause absences from work or school. Despite recommended guidelines for road users, fatal road accidents continue to be a significant cause of death.
What Should I Do After an Accident?
After collecting information, assuming it is safe to do so, it is advisable to file a police report. In this way, the police can keep a record of what occurred during an accident in a central database, keep those records within the police department, and ensure they are kept securely.
In most cases, the police will attend the scene of an accident, but in cases where they do not, you can contact your local police by phone or in person and file an accident report. Therefore, if the police are not present at the collision scene, they can gather the information on their own, and a police report will be prepared afterward.
Los Angeles County Car Accident Lawyers
The severity of an accident victim's injuries may need a lengthy recovery period. Depending on the severity of their injuries, they may never be able to return to the workforce and may be unable to afford their mounting medical expenses.
After submitting an insurance claim, there may be considerable confusion. You can trust that our firm will handle your case quickly and competently.
Obtaining compensation from the at-fault party or their insurance company can help ease your financial burden. You should retain competent legal representation to win your case through the legal system.
Our Los Angeles car accident lawyers at Arash Law, led by Arash Khorsandi, Esq., always put the needs of our clients first. We promise to work quickly to get you back to your regular routine.
We offer free consultations with our skilled legal team, so contact us at (888) 488-1391 or fill out the "Do I Have a Case?" form on our website to set up an appointment.