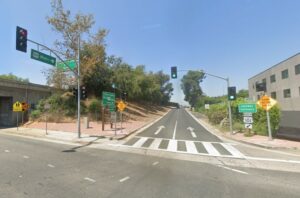 One person was killed while another was injured following a two-vehicle collision in Studio City, Los Angeles on Sunday morning, February 26, 2023.
According to the California Highway Patrol, the fatal crash occurred early morning at about 2:45 a.m. on the westbound side of Hollywood (101) Freeway at Laurel Canyon Boulevard.
The responding officers arrived at the scene and discovered the two vehicles involved in the collision. The circumstances leading to the crash are still under investigation.
One victim was found lying on the road. Lifesaving procedures failed and the unidentified person was later declared dead on the spot. It remains unclear whether they were thrown during the crash or struck by another car.
The responders from the Los Angeles Fire Department took another person to a hospital for sustaining unspecified injuries. No updates on their current condition were released.
By 8 a.m., authorities had cleaned up the crash site. There was no additional information available right away.

Fatal Two-Vehicle Accident Statistics
In the United States, automobile collisions are the greatest cause of both accidental mortality and accidental hospitalization. In addition, two million people are killed and ten million are injured each year as a result of automotive accidents around the world.
According to the National Safety Council, more persons were killed in traffic accidents in 2020 due to preventable causes such as drunk driving and not wearing a seatbelt. The death rate had decreased for three years in a row before that year's 8.3 percent surge. There were 39,107 traffic-related fatalities in the United States in 2019. The number had risen to 42,338 the next year.
In 2020, 3,847 people in California were killed in automobile accidents. There were 2,260 fatalities in single-car accidents (59%) and 1,587 deaths in multiple-car incidents (41%).
What to Do After a Car Accident
Always contact the police after being involved in a car crash. To best assist law police or an insurance company, please be as factual as possible and refrain from making any assumptions. In the aftermath of an accident, many people who did not cause it feel obligated to apologize to those who were. Such action can be used by the insurer as evidence against a claim.
A copy of the report should be made available by the appropriate authorities upon request. You can also fill out the online form on our site. As soon as we receive the report, we will begin working on your case. No matter how large or small your insurance claim may be, one of our seasoned attorneys will gladly review it for free of charge.
Car Accident Lawyers in Los Angeles County
You should get in touch with us right away to schedule a free consultation with one of our highly recognized attorneys if you or a loved one has been injured in a car accident and you believe you may have a personal injury or wrongful death case. If you need legal assistance with an insurance claim, don't hesitate to contact us.
Our trusted Los Angeles County car accident lawyers at Arash Law, led by Arash Khorsandi Esq., have the recognition and vast experience to advocate for accident victims, with awarded compensation totaling $400 million as of yet. Contact (888) 488-1391 or click the "Do I Have a Case?" on our website to schedule a free consultation with one of our lawyers.