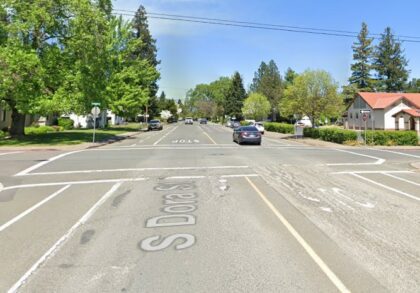 A child was injured after being hit by a car while riding a bike in Ukiah in the Westside neighborhood on Sunday afternoon, February 26, 2023.
According to the local authorities, the collision occurred at around 3:05 p.m. at the intersection of West Perkins Street and South Dora Street.
Little information on the crash is known, but the child reportedly sustained minor injuries. It was unknown whether the child, whose age and gender were not available, was rushed to the hospital by medical personnel who arrived at the scene together with law enforcement.
No further details were available on the driver of the vehicle involved as further investigation continued.
The crash obstructed the intersection, causing traffic delays in the area.

Bicycle Accident Statistics
Despite the existence of legislation meant to protect bicycles, many people in the United States are concerned about their safety. More than 800 cyclists lost their lives in road accidents in the United States in 2018. Some of these terrible catastrophes have struck the state of California.
The number of reported bicycle accidents decreased by less than 20% between 2016 and 2017, according to the available data. The frequency of reported bicycle accidents decreased by 12% between 2000 and 2001. The toll from fatalities, however, continued to rise.
Bicyclists account for 4.4% of all road deaths in California. In comparison to the rest of the United States, this is quite high. According to the National Cycling Safety Foundation, 145 people have lost their lives and 11,116 have been injured in bicycle-related accidents in California in 2017.
What to Do After a Bicycle Accident
Always contact the proper authorities after being involved in a bicycle accident. Whether you're giving this information to the police or an insurance company, it's in everyone's best interest to be as factual as possible and avoid making any assumptions. In the aftermath of an accident, even those who did not cause it often feel obligated to apologize to those who did. Sometimes insurers will argue that this reason is sufficient to deny a claim.
It is possible to obtain a copy of the report from the appropriate authorities if so desired. The online form is also available on our site. As soon as we obtain the report, we will begin working on your case. One of our seasoned attorneys will gladly analyze your insurance claim, no matter how big or small, at no charge to you.
Bicycle Accident Lawyers in Mendocino County
If you or a loved one were wounded in a bicycle accident that was someone else's responsibility in California, you have the right to sue for damages. During your no-cost meeting, an attorney from our firm will go over the details of your case, explain the paths forward, and forewarn you if there is anything that could reduce the amount of money you receive in a settlement.
Our trusted and award-winning Mendocino County bicycle accident attorneys at Arash Law, led by Arash Khorsandi Esq., have extensive experience advocating for accident victims. Our clients have been awarded compensation totaling $400 million.
Contact (888) 488-1391 or click the "Do I Have a Case?" on our website to schedule a free consultation with one of our lawyers.