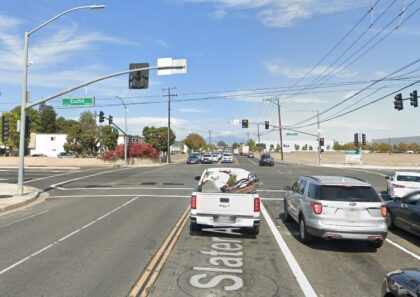 A person was killed while another was seriously injured following a fiery two-vehicle collision in Fountain Valley on Sunday afternoon, February 26, 2023.
The Fountain Valley Police Department reported that the fatal crash occurred shortly before 5:00 p.m. at the Slater Avenue and Euclid Street intersection.
According to the police, a Toyota Camry was traveling north on Euclid when a Dodge Caravan was making a left turn onto Slater from the southbound lanes of Euclid. The two vehicles collided, causing the Camry to light on fire.
Additional responders arrived and pulled the 51-year-old male driver from Costa Mesa out of the burning Camry. He sustained serious head injuries and was taken to the hospital.
The 55-year-old male driver of the Dodge was declared dead on the spot. His identity was withheld until the next of kin was notified by the Orange County Coroner.
The crash is still under investigation by the Fountain Valley Police. They have issued a callout request to anyone who may have seen the collision.

Fatal Two-Vehicle Accident Statistics
Automobile accidents are the leading cause of both unintentional injuries and deaths in the United States. In addition, there are two million fatalities and ten million injuries caused by automobile accidents annually over the world.
According to the National Safety Council, the number of avoidable deaths on the roads increased in 2020. This 8.3% increase was unexpected because the death rate had been falling for the prior three years. There were 39,107 fatalities associated with automobiles in the United States in 2019. The death toll had reached 42,338 by the year 2020.
That year also saw 3,847 deaths in automobile accidents in California. There were 1,587 deaths or 41% of the total that involved two or more vehicles, and 2,260 deaths or 59% involved only one vehicle.
What to Do After a Car Accident
If you've been in a car accident, you need to call the police right away. When corresponding with authorities or an insurance company, it is essential to be as factual as possible and to refrain from making any assumptions. Many people would express sorrow over the event even if they were not directly involved. It's possible that the insurance company would use such behavior in rejecting a claim.
If you want a copy of the report, all you have to do is get in touch with the authorities. Also, an online form can be found on our site. As soon as we obtain access to the report, we will begin working on your case. One of our seasoned attorneys will analyze your insurance claim, no matter how big or small, at no extra cost to you.
Car Accident Lawyers in Orange County
If you or a loved one has been hurt in a car accident and you think you may have a personal injury or wrongful death case, please contact us right away to book a free consultation with one of our top-rated attorneys. Don't hesitate to get in touch with us if you feel you need legal counsel for an insurance claim.
Our trusted Orange County car accident lawyers at Arash Law, led by Arash Khorsandi Esq., have the recognition and vast experience to advocate for accident victims, with awarded compensation totaling $400 million as of yet. Contact (888) 488-1391 or click the "Do I Have a Case?" on our website to schedule a free consultation with one of our lawyers.