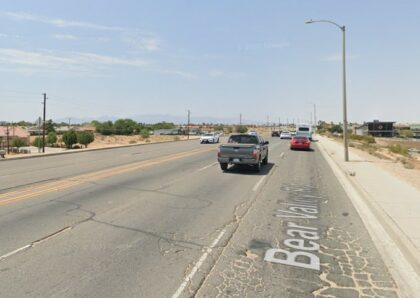 One person was sent to the hospital with injuries following a two-vehicle collision in Victorville on Saturday evening, February 26, 2023.
According to the Victorville Police Department, the crash occurred at around 11:00 p.m. on the Bear Valley Road bridge near Ridgecrest Road.
The emergency responders arrived at the scene to find the Jeep SUV and a pickup truck involved in the crash, the circumstances of which are still being investigated.
There is no information on the total number of people involved, but one person was transported away from the scene via ground ambulance. Their current state is unknown.
The Victorville City Fire reported that the bridge was iced over, causing the roadway in both directions to be closed for several hours. The Victorville Police looks further into the crash.

Two-Vehicle Accident Statistics
Automobile accidents are the leading cause of both accidental death and hospitalization in the United States. Every year, motor vehicle accidents cause two million deaths and ten million injuries around the world.
The National Safety Council reported an increase in preventable traffic fatalities in 2020. Before that year's 8.3% spike, the death rate had decreased over the prior three years. There were 39,107 people killed in car crashes in the United States in 2019. It reached 42,338 by 2020.
It is estimated that 3,847 people were killed in automobile accidents in California year 2020. 59%, or 2,260, of the fatalities were involved in single-vehicle accidents, while 41%, or 1,587, were involved in multiple-vehicle crashes.
What to Do After a Car Accident
When a car accident occurs, it must be reported to the proper authorities. Whether communicating with the law enforcement or an insurance company, it is imperative that you be as factual as possible and refrain from making any assumptions. Many people, even though they had nothing to do with an accident, feel obligated to apologize to the victims. On occasion, insurers will cite this reason when rejecting a claim.
You can get a copy of the report from the proper authorities. On our site, you'll also find a handy online form for your use. The moment we have access to the report, we will begin working on your case. One of our seasoned attorneys will analyze your insurance claim, no matter how big or small, at no additional cost to you.
Car Accident Lawyers in San Bernardino County
If you or a loved one has been hurt in a car accident and you think you may have a personal injury or wrongful death case, you should get in contact with us right away to book a free consultation with one of our highly regarded attorneys. Please get in touch with us without delay if you require legal counsel in connection with an insurance claim.
Our trusted San Bernardino County car accident lawyers at Arash Law, led by Arash Khorsandi Esq., have the recognition and vast experience to advocate for accident victims, with awarded compensation totaling $400 million as of yet. Contact (888) 488-1391 or click the "Do I Have a Case?" on our website to schedule a free consultation with one of our lawyers.