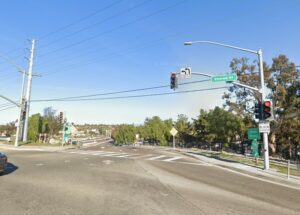 A suspected DUI collision claimed a man's life in Vista on Sunday morning, February 26, 2023.
The fatal crash reportedly occurred around 10:30 a.m. on the eastbound lanes of State Route 78 near South Emerald Drive.
Before officers arrived on the scene, they received reports that another vehicle had struck a car on the center divide.
Before disconnecting the call, the caller told dispatchers that the situation was dire and that they needed assistance.
A gray Chevrolet HHR with significant damage to its rear passenger side was seen along with a gray Buick sedan that allegedly collided with the other vehicle.
According to authorities, the Buick sedan struck the man while he was changing a tire and pronounced him dead at the scene.
A technician trained in impairment checks was also called to the scene.
Officials confirmed that the Buick driver was 22-year-old Isabella H. of Oceanside, California.
The female driver was arrested from the Oceanside Area at approximately 12:22 p.m. She faces multiple charges concerning this incident, including felony DUI and gross vehicular manslaughter.
Those with information or who witnessed this incident are asked to contact the California Highway Patrol Oceanside Area office at (760) 643-3400.

Fatal DUI Collision Statistics
According to the National Highway Traffic Safety Administration, 32 fatal drunk driving collisions occur in the United States every 45 minutes. According to estimates, 11,654 people died in traffic accidents due to drunk driving in 2020, a 14% increase from 2019.
About 30% of all traffic crash fatalities occur due to drunk drivers (with BACs of .08 g/dL or higher). A total of 10,500 people died in drunk driving crashes from 2011 to 2020.
The California DUI Management Information System reported 5.8% in alcohol-related fatalities in 2017 after a rise of 6.9% in 2016.
Drunk driving is dangerous for passengers, other drivers, and the environment. Due to reckless driving by intoxicated drivers, 2 billion gallons of fuel are wasted annually.
Given these figures, everyone should monitor their alcohol intake and refrain from driving after drinking.
How Do I Obtain a Police Report After an Accident
You can get a police report if you've been in an accident.
You just need to tell us what happened and where it took place. Our team will contact the relevant parties and get you all the necessary information.
Our team handles this process for every client, so there's no need to worry about insurance covering damage, or injuries-we'll guarantee that everything is covered!
DUI Accident Attorneys for Victims in Vista
After being hit by a car, DUI accident victims are unlikely to be able to return to their previous level of functioning. Accordingly, vehicle-related injuries are covered by California's injury laws.
Your injury lawsuit may allow you to seek compensation from the negligent driver who hit and injured you. As a result of an accident, victims frequently face several difficulties, such as loss of wages, extended rehabilitation, and high medical bills.
Our Vista DUI accident victims' lawyers at Arash Law, headed by Arash Khorsandi, Esq., are aggressive advocates for clients injured in drunk driving accidents. Those who drive under alcohol must face the consequences of their risky decision.
We strive to ensure that our clients receive the maximum compensation so they can support their families and pay for any medical care that may be required.
We can help if a drunk driver or someone you care about has injured you. Call us at (888) 488-1391 or complete the "Do I Have A Case?" form on our website.