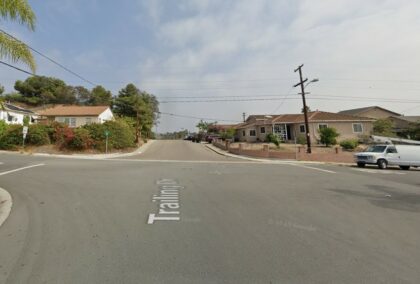 One man was killed after a fatal traffic collision in a neighborhood near Fairmount Park on Sunday, February 26, 2023.
According to the San Diego Police Department, the crash occurred around 10:00 p.m. at Trailing Drive and Tulip Street.
The victim was only identified as a male and was found lying on the roadway.
He was taken to a hospital by paramedics, where doctors declared him dead.
According to SDPD officer Sarah Foster, officers who were documenting the scene of the fatality discovered evidence that the victim had been involved in a traffic collision.

Fatal Hit-and-Run Crash Statistics
The AAA Foundation for Traffic Safety reports that 680,000 people are injured or killed annually due to hit-and-run accidents. The number of fatalities caused by hit-and-run accidents has increased over the past few years. In 2020, these mishaps contributed to 24% of pedestrian deaths.
A hit-and-run occurs when a car collides with another and speeds off without stopping to help the injured.
Besides the agony and financial and emotional costs of hit-and-run accidents, victims can suffer from negligence and a delay in treatment.
Pedestrian injuries are most frequently caused by distracted driving. While operating a vehicle, a driver may converse with passengers, adjusting the radio, or make telephone calls.
Multitasking increases the likelihood of missing someone crossing the street.
In some situations, it's essential to wear bright clothing to reduce the likelihood of an accident. You should move cautiously across the street so that oncoming cars can see you.
What Should I Do After an Accident?
If you are involved in an accident, call the police right away. Just answer the question asked; don't make assumptions. There are many victims who will apologize even if they have nothing to do with the incident. If you do this, the insurance company may refuse to pay out on your claim.
A copy of the report can be obtained by contacting the appropriate authorities. Please fill out the form on our site so that we may submit your request. We'll get right to work on your case once we get the report. Let our highly regarded attorneys evaluate your insurance claim at no cost to you right away.
San Diego County Hit-and-Run Accident Lawyers
The recovery process after an accident can take significant time and effort for traumatized accident victims. It may result in people paying substantial medical bills and losing employment.
A person injured in such an accident should seek legal counsel as soon as possible. The hit-and-run driver may be held responsible for the damage even if they cannot be located.
With our legal team, we guarantee that your case will be handled appropriately and professionally. Careless drivers must be held accountable at all costs.
Our San Diego County hit-and-run accident lawyers at Arash Law, led by Arash Khorsandi, Esq., have a proven track record of assisting victims of hit-and-run accidents. We are dedicated to safeguarding your right to compensation and operate on a contingency fee basis.
Call (888) 488-1391 or use our website's "Do I Have a Case?" link to schedule a no-cost consultation with our legal team.