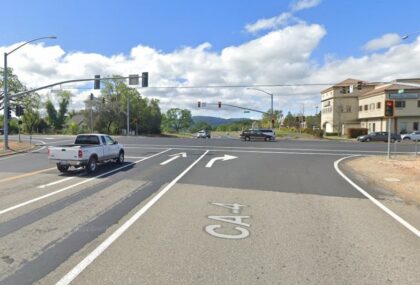 The California Highway Patrol reported that two drivers were killed following a fatal two-vehicle crash on Highway 4 on Monday morning, February 27, 2023.
The accident took place just after 6:30 a.m. west of Dunton Road.
According to police, a 21-year-old Stockton woman drove into oncoming traffic in front of a 51-year-old Copperopolis man in a pickup truck for an unspecified reason after crossing the double-yellow line.
Despite both drivers' attempts to swerve into the shoulder to avoid a collision, one nonetheless took place.
Both drivers were declared dead at the scene, according to CHP.
The accident remains under investigation.

Fatal Two-Vehicle Crash Statistics
Car accidents are the leading cause of both unintentional deaths and hospital visits in the United States. Two million lives are lost and ten million people are injured every year because of traffic accidents.
The National Safety Council reported that avoidable factors such as drunk driving, speeding, and the failure to wear seatbelts contributed to the rise in traffic fatalities in 2020. The death rate had decreased for three years in a row prior to that year's 8.3% increase. The year 2019 saw 39,107 people lose their lives in car accidents across the United States. This number increased by 2020, reaching 42,338.
In 2020, 3,847 people lost their lives in automobile accidents in the Golden State. There were 2,260 fatalities in single-vehicle accidents (or 59%), compared to 1,587 fatalities in accidents involving two or more cars (41%).
What Should I Do After an Accident?
In the event of a car accident, it's imperative that you get in touch with the authorities right away. Communicating with law enforcement or an insurance company requires an approach based solely on the facts and free of speculation. Many victims of accidents carry guilt over a loss they had nothing to do with. An insurance provider may use such actions as grounds for rejecting a claim.
If you contact the proper authority, it should be possible to obtain a copy of the report. It is also suggested that you fill out the form that can be found on our website. Our investigation into your case will begin as soon as we have the report. One of our competent attorneys will review your insurance claim at no charge to you in order to determine its merits.
Stanislaus County Car Accident Lawyers
Contact us right away to schedule a free consultation with one of our highly regarded attorneys if you or a loved one has been injured in a car accident and you believe you may have a personal injury or wrongful death case. If you are in need of legal representation in connection with an insurance claim, please contact us.
Our trusted Stanislaus County car accident lawyers at Arash Law, headed by Arash Khorsandi Esq., have the recognition and vast experience to advocate for accident victims, with awarded compensation totaling $400 million as of yet. Contact (888) 488-1391 or click the "Do I Have a Case?" on our website to schedule a free consultation with one of our lawyers.