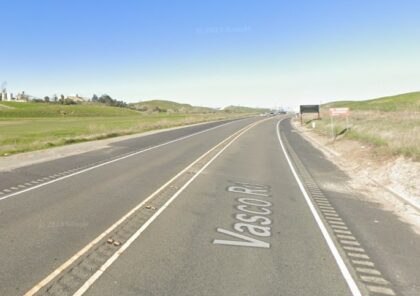 One person was killed following a head-on collision between a vehicle and a big rig in eastern Contra Costa County on Monday morning, February 27, 2023.
According to the California Highway Patrol, the deadly collision occurred early morning at about 4:19 a.m. on Vasco Road south of Camino Diablo, west of the census-designated place of Byron.
The initial investigation revealed that a Ford Fusion was heading south on Vasco Road when it crossed the northbound lane for unknown reasons and collided head-on with a Tractor-Trailer traveling north.
The Contra Costa County Fire Protection District responded to the scene and extricated the sole female occupant of the Ford, who was trapped in the wreckage. The unidentified woman was killed at the site while the truck driver was unharmed.
All lanes in both directions of Vasco Road were closed due to the fatal collision. It was later reopened by 9:45 a.m.
Further investigation continues. At this point, it remains unknown whether intoxication played a role.

Fatal Big Rig Accident Statistics
If an accident occurs, those in a big rig are better protected than those in a car or other smaller vehicle. So this is why people in compact automobiles are more likely to be killed in traffic accidents. When even one truck is involved, the results can be catastrophic.
In 2020, 4,965 people in the United States were killed in incidents involving big trucks, according to the National Highway Traffic Safety Administration. In 2020, there was a 5% decrease in fatalities compared to 2019's total of 5,032. Nevertheless, massive trucks were responsible for the deaths of 71% of motorists nationwide.
In the United States, large trucks made up 8.9% of all vehicles involved in fatal accidents in 2020. In 2015, at least 90 persons were killed in California when their vehicles collided with trucks. At least fifty people have been killed in truck accidents in just two states in the United States that year: Texas and Florida.
What to Do After a Big Rig Accident
Reporting a big rig accident to the authorities as soon as possible is crucial. When communicating with the law enforcement or an insurance company, it is important to be as factual as possible and to refrain from making any assumptions. In many cases, people will say they're sorry even if they had nothing to do with the disaster at all. Insurers will cite such actions as justification for rejecting a claim.
You can ask the appropriate authorities for a copy of the report. You can also reach us via the online form found on our site. As soon as we have access to the report, we will begin working on your case. One of our seasoned attorneys will analyze your insurance claim, no matter how big or small, at no extra cost to you.
Big Rig Accident Lawyers in Contra Costa County
In California, persons who have been hurt in truck accidents can sue the negligent parties to recover financial damages for their physical injuries, lost wages, and emotional distress. If you have any questions or concerns about your insurance claim, or if you would like to speak with one of our experienced attorneys about the possibility of us helping you obtain a fair settlement, please don't hesitate to contact us.
Our trusted Contra Costa County big rig accident lawyers at Arash Law, led by Arash Khorsandi, Esq., have extensive experience and accolades advocating for accident victims, with awarded compensation totaling $400 million. Call (888) 488-1391 now or click the "Do I Have a Case?" on our website to set up a free consultation with one of our attorneys.