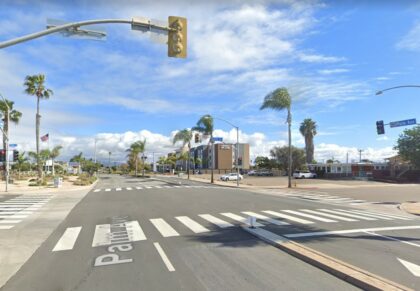 Two minors were hospitalized after a single-vehicle collision in Imperial Beach early Monday morning, February 27, 2023.
According to authorities, the crash occurred around 12:30 a.m. in the 700 block of Palm Avenue.
Witnesses indicated that a Toyota RAV-4 was traveling eastbound at a high rate of speed when it lost control just west of the State Route -75 & Palm Avenue intersection.
After hitting a curb, rolling over, and hitting several light posts, the vehicle rested in the eastbound lanes.
A bystander assisted in extracting a female passenger from the wreckage, and firefighters used the Jaws of Life to extricate the male driver.
The driver and passenger, both identified as minors, were taken to the hospital by ambulance. Their injuries were determined to be severe.
According to sheriff's officials, alcohol was not a factor in the crash, but excessive speed may have contributed to it.
A witness initially reported that the vehicle struck a bicyclist, but no one could find an injured bicyclist in the area.
Those with information are asked to contact Crime Stoppers at 888-580-8477 or Imperial Beach Traffic Deputy K. Silli at 619-498-2400.

Single-Vehicle Collision Statistics
The Fatality Analysis Reporting System reported 8,824 fatal car collisions in the United States in 2020, killing 35,766 people. Approximately 11.7 fatalities per 100,000 people were reported for every 100 million miles driven.
In California, deaths from traffic accidents caused by unintentional traffic events reach about 10,000 annually. The figure illustrates the gravity of the situation.
Since 2013, California has experienced a 23.5% increase in fatal car accidents. In 2017, 3,898 people died in 4,850,866 car accidents, whereas 276,823 were injured.
You must follow traffic rules, maintain a safe following distance, and drive with caution to ensure your safety and that of those around you. Unfortunately, fatal car accidents still occur despite these precautions.
What Should I Do After an Accident Occurred
Ensure that law enforcement arrives at the scene and files a report. If you are interviewed on the location of the accident, you should be honest about what you saw and experienced. When speaking, be careful not to make assumptions.
After an accident, victims can apologize profusely due to anxiety and shock, even if they are not at fault. An insurance company may interpret this act of kindness as evidence of your admission of guilt to avoid paying out on a claim.
California's high traffic accident rate has injured pedestrians, cyclists, and vehicle passengers. Our experienced car accident lawyers are available to help you regardless of whether you were in a vehicle at the time of the accident. You can focus on getting better while we pursue the money you're owed under the law, and we'll keep you informed every step of the way.
Reliable Car Accident Lawyers in Imperial Beach
You must seek legal counsel if you have suffered severe injuries in a car accident. A lawyer should be contacted immediately after a traumatic experience. Taking legal action after a car accident as soon as possible is essential to protect your rights.
The best way to ensure that your car accident case is handled relatively is to hire an attorney experienced in handling car accidents. Your lawyer will provide a professional opinion after reviewing the accident details.
You can count on our Imperial Beach car accident lawyers at Arash Law, headed by Arash Khorsandi, Esq., to assist you with your case and win it. Our contingency fee arrangement ensures that you will not be required to pay anything out of pocket to receive compensation for your losses.
To schedule a free consultation, use our website's "Do I Have A Case?" form or call us today at (888) 488-1391.