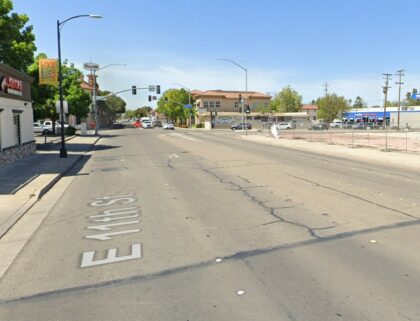 A pedestrian was injured after being struck by a vehicle in Tracy, San Joaquin County, on Monday evening, February 27, 2023.
According to the Tracy Police Department, the pedestrian crash occurred in the evening on 11th Street between Holly Drive and El Portal Street.
At this moment, not much information about the crash or the events that preceded it has been made public.
No further details were released on the pedestrian's identity and current condition, but the police reported it as a major injury collision.
Those who may have witnessed the crash are encouraged to contact the authorities.

Pedestrian Accident Statistics
According to statistics released by the Governors Highway Safety Association, the number of lives lost in traffic accidents decreased by 14% between 2007 and 2016. However, there was a 27% increase in pedestrian fatalities during that time period. These statistics suggest that it is currently extremely dangerous to walk along U.S. roads.
A recorded 5,977 people lost their lives as pedestrians in the United States in 2016. Around 88 people were dying every minute by the end of that year. There were about 137,000 pedestrian injuries that required hospitalization in 2017.
In 2012, approximately 14,000 California pedestrians were injured and 893 died. Numerous reports have pinpointed this factor as a significant contributor to pedestrian accidents all over the state.
What to Do After a Pedestrian Accident
Call the police immediately if you've been in a pedestrian accident. It is crucial to be as factual as possible and avoid making any assumptions when communicating with authorities or an insurance company. The victims who did not cause the accident could apologize. As a result of such actions, the insurance company might decide to deny a claim.
It's as simple as contacting the appropriate authorities to request a copy of the report. Our website also features an online form that you can fill out. The moment we have access to the report, we will get to work on your case. No matter the size of your insurance claim, one of our seasoned attorneys will review it at no extra charge to you.
Pedestrian Accident Lawyers in San Joaquin County
In the event of an accident, pedestrians in California are afforded the same legal protections as drivers, cyclists, and passengers. In the event that you or a loved one were hurt in a car crash that wasn't your fault, you may be able to file a personal injury or wrongful death lawsuit.
Our trusted San Joaquin County pedestrian accident lawyers at Arash Law, led by Arash Khorsandi, Esq., have extensive experience and accolades advocating for accident victims. Our clients have been awarded compensation totaling $400 million.
Call (888) 488-1391 now or click the "Do I Have a Case?" on our website to set up a free consultation with one of our attorneys.