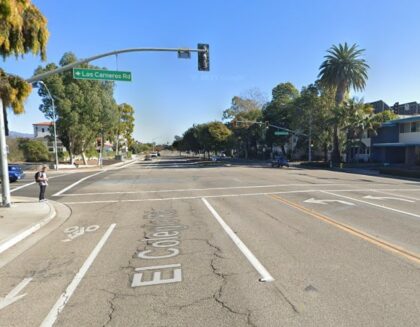 A UCSB student riding a bicycle was injured after being struck by a DUI driver in Isla Vista, Santa Barbara County, on Monday night, February 27, 2023.
According to the California Highway Patrol, the bicycle and vehicle collision occurred at about 8:15 p.m. at the Los Carneros Road and El Colegio Road intersection.
Kumiko Q., the bicyclist, was trying to cross the junction from El Colegio's north side while traveling west outside any designated bike lane when the vehicle driven by Jonathan P. struck them. The unspecified car hit the cyclist as it turned right onto Los Carneros at a green light.
The American Medical Response took the bicyclist in with cuts and bruises on the left elbow and legs. CHP reported they were likely released with minor injuries. The vehicle had two other occupants at the time of the crash and they were reportedly unharmed.
The driver was arrested that night by CHP officials for driving under the influence and booked into the County Jail. The Santa Barbara County Sheriff's Office said he was charged with two felony counts of DUI.

DUI Accident Statistics
10,142 people were killed in automobile accidents involving a DUI driver in the United States in 2019. In the same year, there were 949 deaths in California due to DUI, with a rate of 2.4 per 100,000 compared to the 3.1 national rate. That year, drunk driving was a contributing factor in 28.1% of all U.S. fatalities and 26.3% of all California fatalities.
Another government study concluded that while the number of drunk driving-related deaths, injuries, and accidents has decreased since the 1980s, there are still far too many drunk drivers on the road today.
To get arrested in the state of California, your BAC must be 0.08 or above. Drivers who have been drinking have impaired senses and judgment, putting the lives of everyone else on the road in danger, including pedestrians and other motorists.
What to Do After a DUI Accident
In the event that you or a loved one are in a DUI crash, it is imperative that you contact the police immediately. Always be truthful and never make assumptions while communicating with law enforcement or an insurance company. Some victims may apologize despite being not at fault. The insurance company may decide not to pay out as a result of this.
By contacting the proper authorities, the victim can acquire a copy of the report. Also, you can fill out this page's online form. As soon as we have the report, we will begin working on your request. Your insurance claim can be reviewed without cost by one of our best attorneys in the country.
DUI Accident Lawyers for Victims in Santa Barbara County
You have the right to sue a drunk motorist in California for damages if he or she causes injury to you or a family member. If you or a loved one have been hurt and you need assistance working out a claim with an insurer, please get in contact with us right once.
Our trusted Santa Barbara County drunk driving accident victim lawyers at Arash Law, led by Arash Khorsandi, Esq., have extensive experience advocating for accident victims, with awarded compensation totaling $400 million. Call (888) 488-1391 now or click the "Do I Have a Case?" on our website to set up a free consultation with one of our attorneys.