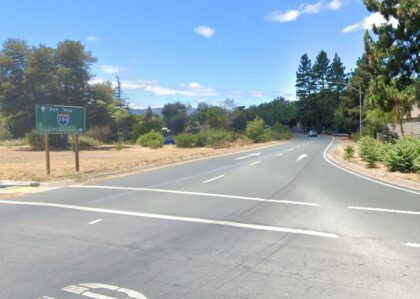 Two people, including a CHP officer, were injured and hospitalized after a vehicle crashed into their parked patrol car in San Jose on Monday afternoon, February 27, 2023.
According to the California Highway Patrol, the collision occurred just after 1:00 p.m. on the shoulder of northbound Interstate 280 Freeway close to Saratoga Avenue.
After investigating a solo-car crash in the area, the officer was waiting for a tow truck inside their patrol car with the vehicle's driver involved in the solo crash. A silver Ford Focus heading north lost control in the rain, crossed over the lanes, and slammed into the patrol vehicle.
Both occupants of the patrol car were transported to a nearby hospital complaining of pain. No further details on their identities and current state were released.
No other information is immediately available on the driver of the vehicle that struck the patrol car as the investigation continues.

Car Accident Statistics
In the United States, automobile accidents are the most significant cause of both accidental injuries and deaths. Moreover, more than ten million people are injured and two million lose their lives each year due to motor accidents worldwide.
Preventable traffic fatalities rose in 2020, according to the National Safety Council. Although the mortality rate had been dropping for three years prior, this 8.3% spike was quite surprising. In 2019, there were 39,107 deaths attributed to automobiles in the United States. The following year, in 2020, the number of fatalities had risen to 42,338.
Also, in the same year, 3,847 people were killed in car accidents in California. Of the total number of fatalities, 1,587 (or 41%) deaths involved two or more cars, while 2,260 (or 59%) involved just one.
What to Do After a Car Accident
If you have been in a car accident, it is imperative that you contact the police immediately. Whether dealing with law enforcement or an insurance provider, it is vital to be as factual as possible and to avoid making any assumptions. Victims who were not to blame for the incident may express regret. It's possible that the insurance company would reject a claim if such behavior was involved.
The report can be obtained by contacting the relevant authorities. You can also contact us via the online form on our website. After receiving the report, we will immediately begin processing your request. We will review your insurance claim, no matter how big or small, at no extra cost to you.
Car Accident Lawyers in San Jose
Contact us immediately to schedule a free consultation with one of our highly regarded attorneys if you or a loved one has been injured in a car accident and you believe you may have a personal injury or wrongful death case. If you think you might require legal representation for an insurance claim, please don't hesitate to contact us.
Our trusted San Jose car accident lawyers at Arash Law, led by Arash Khorsandi Esq., have the recognition and vast experience to advocate for accident victims, with awarded compensation totaling $400 million as of yet. Contact (888) 488-1391 or click the "Do I Have a Case?" on our website to schedule a free consultation with one of our lawyers.