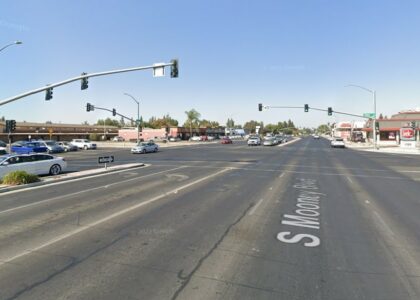 A bystander helped locate a hit-and-run driver who struck a person in Visalia on Monday, February 27, 2023.
According to reports, the crash occurred at night at the intersection of Tulare Avenue and Mooney Boulevard.
Authorities were notified of the collision and discovered a person hit by a car.
A bystander contacted officials and reported they were pursuing the driver, who had fled the scene.
The bystander was able to pinpoint the driver's exact location.
Officers were able to track down the vehicle and apprehend the driver.
The 28-year-old driver, Venjae M., was taken to the Tulare County Pretrial Facility and is facing felony hit-and-run charges.
The victim is expected to recover from their injuries.

Hit-And-Run Collision Statistics
A new study finds that hit-and-run accidents have increased in recent years. Hit-and-run accidents killed 24% of all pedestrians in 2020.
Recent surveys show California has the highest number of pedestrian fatalities compared to other states. In 2012, California had over 14,000 pedestrian injuries and 893 pedestrian fatalities.
A hit-and-run collision occurs when two vehicles collide, and the fleeing vehicle fails to stop to help the injured party. In addition to the anguish and suffering caused by car accidents, hit-and-run incidents can have negative consequences if victims do not seek immediate medical attention.
Vehicles that fail to yield to pedestrians or abruptly stop are the leading causes of pedestrian fatalities and injuries.
To reduce their chances of harm, pedestrians should use sidewalks whenever possible, avoid drugs and alcohol, and exercise caution when crossing parking lots or driving.
What Do I Do Following an Accident
We are aware that this is a challenging time for you. You can get a police report for this incident from us if you need one. Our team will contact you, and we will help you obtain the report. Once the claims process is initiated, you can pursue compensation to cover your injuries.
We will file your claim for you, and you won't need to worry about paying us upfront. Additionally, we can ensure the responsible party's insurance company pays your medical bills.
Contact us for questions or concerns about proceeding after such an accident.
Reliable Hit-And-Run Accident Lawyers in Visalia
Even if a negligent driver flees the scene of an accident, you must retain the services of a reputable attorney.
If you have questions about the legal system, particularly if you are unfamiliar with it, you should consult a lawyer. They will handle your insurance paperwork, ensuring it is correct and looking out for your best interests. Legal help can facilitate a better settlement with your insurer.
Our reputable Visalia hit-and-run accident lawyers at Arash Law, led by Arash Khorsandi, Esq., have a proven track record of defending injured victims in court. With our assistance, clients have received over $400 million in compensation.
Call us at (888) 488-1391 to arrange a no-obligation consultation, or visit our website and select the "Do I Have a Case?" link.